Macron v Le Pen: What are their visions for France?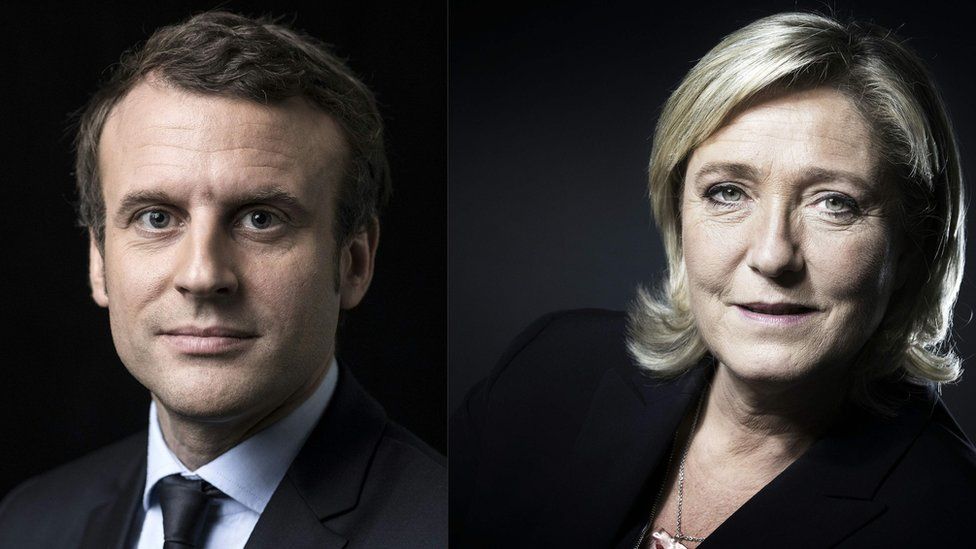 National renewal is what both the rival French presidential candidates are promising, but they offer very different paths to get there.
Liberal centrist Emmanuel Macron - winner of the first round - and nationalist Marine Le Pen are already revolutionising French politics.
They have delivered a big blow to the long-dominant Socialists and conservative Republicans.
Mr Macron leads a new movement called En Marche (On the Move), while Ms Le Pen is backed by the National Front (FN). They disagree on many issues, especially Europe and immigration.
Make budget savings of €60bn (£51bn; $65bn), so that France sticks to the EU deficit limit of 3% of GDP (total output)
Public investments worth €50bn spread over five years for environmental measures, apprenticeships, digital innovation and public infrastructure
Lower corporation tax to 25% from 33.3%
Introduce "intelligent protectionism", including favouring French firms in public sector contracts
Turn the euro into a "common currency" used for trade, but restore the franc in the domestic economy
Free up loans for small businesses by lowering interest charges
Boost people's purchasing power by cutting their social security contributions, worth about €500 annually for someone on a monthly net salary of €2,200
Allow firms flexibility on the 35-hour working week - but extra hours worked will be free of social security deductions
Maintain retirement age at 62, but unify pension rules to reduce complexity
Impose a new tax on the hiring of foreign workers so that French citizens get priority
Keep the 35-hour working week
Lower the retirement age to 60
Reform the EU by giving the eurozone a separate budget, finance minister and parliament (MEPs from the 19 countries that use the euro)
In Brexit negotiations, insist that EU Single Market rules apply fully to all trade partners
Promote free trade deals like Ceta - the EU-Canada deal
Negotiate with the EU to repatriate powers to France and reform the bloc, then hold an in/out referendum on France's EU membership
Restore full border controls, leave the Schengen open borders system, appoint 6,000 new customs officers
Scrap the EU posted workers directive, to block competition from foreign workers in France
Create a 5,000-strong force of EU border guards
Make fluency in French the main qualification for obtaining French nationality
Give all religious leaders comprehensive training in France's secular values
Suspend all legal immigration, restore border controls and then limit immigration to 10,000 annually
Automatically deport all foreign criminals and foreigners with Islamist links, close "extremist" mosques
Grant asylum only to people who apply for it at French diplomatic missions abroad
Read more on the French election:
Recruit 10,000 new police officers
Expand prisons to house an extra 15,000
Create an EU defence fund to promote joint military projects and set up a permanent European headquarters
Recruit 15,000 new police officers
Create 40,000 extra prison places
Boost armed forces by 50,000 personnel to return to 2007 levels and pull France out of Nato's command structure
In areas of special need - notably poor suburbs (banlieues) - limit class sizes in primary schools to 12 pupils per teacher
Ban children's use of mobile phones at school
At the age of 18 French teenagers will get a "Cultural Pass" worth €500 to spend on cultural pursuits such as the cinema, theatre, books
Get back to basics - prioritise teaching of French, history and maths
Restore school uniforms and respect for teachers
Make schools "secular zones" free of social conflict
Cut the number of public servants by 120,000 - through natural wastage, but excluding hospitals
MPs must not work as consultants, nor employ family members
Cut the total number of parliamentary deputies and senators by about one-third
Simplify the civil service by cutting the layers of state administration from six to three
Cut the number of deputies to 300 (from 577) and senators to 200 (from 348)
Introduce proportional representation in all elections (current parliamentary elections are first-past-the-post)
Half of food provided in school and work canteens must be organic or locally produced
France must be the world leader in developing green technologies
One million poorly insulated homes must be renovated
Support nuclear energy and modernise it - and keep Fessenheim atomic power station running
Boost investment in French renewable energy firms, under the supervision of state utility EDF, but stop wind energy projects
Cut pollution by maximising production in France instead of shipping goods globally
Please enable Javascript to view our poll of polls chart.
*Polling results up to this date show how people said they would vote on 7 May, if Macron and Le Pen reached the second round
The polling average line looks at the five most recent national polls and takes the median value, ie, the value between the two figures that are higher and two figures that are lower.