German police carry out anti-terror raids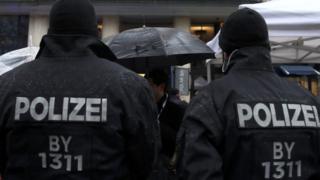 German police have carried out anti-terrorism raids in four states, targeting suspected members and supporters of so-called Islamic State.
Homes and properties were searched in Bavaria, Berlin, Saxony and Saxony-Anhalt during the pre-dawn operation, federal prosecutors say.
Police were looking for three suspects - two of them are believed to be IS members and the third a supporter of the jihadist group.
No arrests have been made.
After suffering a series of deadly attacks last year, Germany has been in fear of further violence.
On Tuesday, the authorities made an arrest linked to an alleged plot to murder a senior public figure.