Lisbon airport: Fuelling glitch grounds planes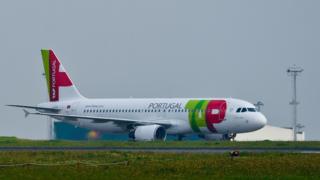 Planes are stuck on the Tarmac at Lisbon airport amid a failure with the fuel pumping system, say reports.
Portugal's flagship carrier, TAP, said there were 14 of its planes on the ground and all planes without fuel were unable to take off. Some flights have been cancelled.
The airport authority admitted it did not know when the problem would be resolved.
But passengers have taken to Twitter to complain.
Some planes coming into land at Lisbon are stopping off at nearby airports first to refuel, while other planes have enough fuel to continue their journeys, so not all planes are affected.
On the airport's Facebook page, it warns passengers of "significant delays" and suggests they check their flight status on the airport website.