LÉ Aisling: Irish Navy in 'terrible' ship deal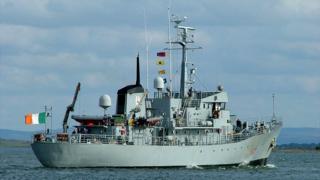 A former Irish Naval Service vessel sold for 110,000 euros (£93,500) two months ago, is being offered for sale in Holland for 685,000 euros.
LÉ Aisling is being sold as a fisheries protection vessel in the Netherlands.
The sale of the vessel appears to have been "a terrible deal", the Permanent Defence Forces' Representative Association said.
The Irish Department of Defence has said no reserve price was set for the auction of the ship in March.
It said no external valuation was sought before the sale as the market was too difficult.
The department said the ship was a drain in terms of maintenance and personnel and was taking up scarce berthing space.
It added that scrap dealers did attend the auction but declined to bid and the prevailing market determined the price achievable.
Two bids
The LÉ Aisling spent 36 years in service before it was decommissioned in June 2016 and sold at auction earlier this year.
There were only two bids for it when the vessel was auctioned in Cork.
It was bought by Dutch ship broker Dick van der Kamp, who said he planned to resell it on the international market.
Auctioneer Dominic Daly, who sold the ship on behalf of the Department of Defence, as well as two other vessels, said significant costs would have been involved in preparing LÉ Aisling for re-sale.
Mr Daly told RTE that the cost of towing the ship to Holland and re-classifying the vessel could have run to hundreds of thousands of euros.
He added that naval vessels are sold without classification and have to be re-classified before they can go back into service.
'Illuminate the issues'
Fine Gael TD and Public Accounts Committee member Alan Farrell said he expects the issue of the sale to be raised at the Public Accounts Committee on Thursday.
Speaking on RTÉ's Morning Ireland, Mr Farrell said he has a number of concerns in relation to the disposal and there will be opportunities in parliament in the coming weeks "to illuminate some of the issues, including why there was no valuation in the first place".
Another PAC member, Sinn Féin TD David Cullinane, said: "I will be raising this issue at the next meeting of the Public Accounts Committee, along with the concerns of PDFORRA that a higher reserve price was not set.
"We need to establish whether the state got a fair price from the deal."
In January, an Irish government jet sold to a US firm for less than 420,000 euros two years ago was revealed to be insured for $5m (£3.87m).