Oisin Meritt makes Ireland's cerebral palsy football team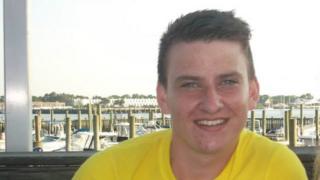 An Irish footballer who almost died after falling off a balcony in Spain has defied medical odds to play again.
Oisin Merritt, a former Finn Harps player, from Donegal, suffered serious brain injuries after landing on his head in Santa Ponsa in June 2014.
Doctors told his family to "say their goodbyes" and prepare for a wake.
After a remarkable recovery, Mr Merritt is due to line up for his national team at the Cerebral Palsy Football World Championships in Argentina.
"The injuries were horrific to be honest, I had multiple brain haemorrhages," Oisin Meritt told BBC Radio Foyle.
"My brain started to swell so much when I was in the coma, that the pressure in the brain started rising.
"They reckon once your brain pressure goes over 35, 36 then your body will start to shut down. Mine was sitting at 38, 39 for two or three weeks," he said.
The Donegal native had been enjoying his football before the accident. He had just been moved from the under 19 squad on to the Finn Harps reserve team.
To celebrate his 19th birthday, Oisin and his friends - like many Irish sun seekers - booked a holiday to Spain.
It was on the last day of their trip that the then 19-year-old plunged 20ft (6m) from a balcony and landed on his head.
He spent a month in an induced coma and suffered two brain haemorrhages, one of which was so severe surgeons had to remove part of his skull.
He broke his skull, a neck bone, his jaw in five places, a cheekbone, and ruptured his spleen.
It was then that medical staff told the Merritt family to prepare for the worst.
"The doctors called my family into the room and said to my mother: 'Your son is hanging on from a spider's web with a baby finger, he's not going to make it through the night, so say goodbye'", Oisin said.
"They were holding my hand and obviously in bits, crying their eyes out. That was when I started fighting back in front of their eyes.
"The screen showed the pressure dropping. Within 24 hours I was nearly back to a level state and the recovery started from there."
Dubbed the Miracle Man, Merritt defied all the odds to survive the accident and earlier this month was given the all clear to return to playing football.
He qualifies for the cerebral palsy team due to the brain injury he received from the fall and is relishing the chance to get back on the field.
"I can't actually believe this is going to happen," Oisin said, "If I get on a plane to Argentina to go the world championships in September, what an unbelievable story that will be."