Trump foreign tour: G7 leaders turn attention to Africa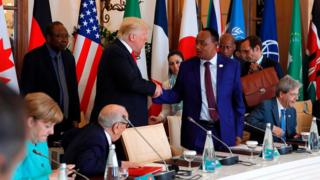 Leaders of the G7 group of rich nations have begun the last day of their summit with talks on the migrant crisis.
Leaders from Tunisia, Kenya, Ethiopia, Niger and Nigeria have taken part in the discussions in Taormina, Sicily.
Italy chose to host the G7 there to draw attention to Africa and the risks to migrants crossing to Europe.
US President Donald Trump is said to oppose a statement highlighting the benefits of migration. He also opposes language on trade and climate change.
G7 leaders have agreed a statement on fighting terrorism.
Saturday also marks the last day of Mr Trump's first foreign tour.
Why migration is divisive
Italy is keen to encourage the world's wealthiest nations to support African countries in developing their economies, so fewer young people will feel forced to make the dangerous journey to Europe.
However, a diplomat told news agency Reuters that other Italian proposals - which looked to highlight the benefits of migration and promote a major initiative on food security - were dismissed ahead of the summit.
According to the source, Mr Trump's administration was unwilling to highlight benefits of human mobility, Reuters reported.
A statement originally intended to be separate and run into several pages is now expected to be condensed to two paragraphs.
So far this year, more than 1,500 migrants are thought to have drowned in the Mediterranean.
What about trade?
The G7 has been a champion of free trade since its inception.
The leaders' last summit in Japan last year stressed the need to avoid protectionism. But this was before the election of Donald Trump and his campaign slogan of "America First".
There has been concern that the US president might promote a protectionist agenda.
German weekly Der Spiegel quoted Mr Trump as saying in a meeting with European Commission President Jean-Claude Juncker on Thursday that Germans were "very bad" regarding car exports to the US.
During his election campaign last year, Mr Trump threatened customs duties in retaliation for Germany's trade surplus with the US, saying it owed "vast sums of money" to the US.
Why no deal on climate change?
President Trump, who once dismissed global warming as a "hoax", has previously threatened to pull out of the Paris agreement.
He told his fellow G7 leaders from Britain, Canada, France, Germany, Italy and Japan on Friday that he had not yet decided whether or not to endorse the Paris agreement on reducing greenhouse gas emissions.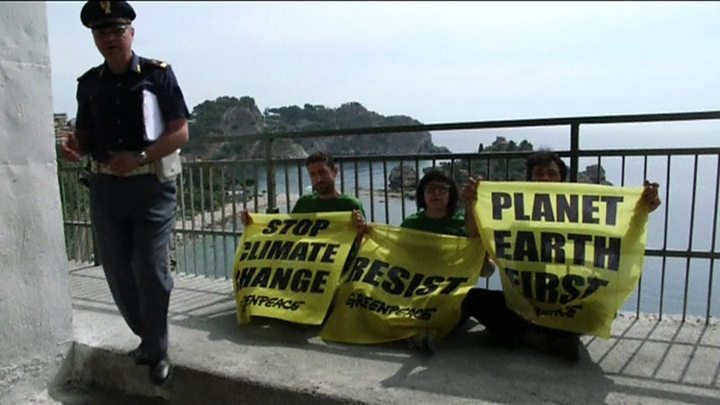 Sources inside the summit say six other leaders will sign a statement to reaffirm their support for the Paris agreement - and the US will decide its next move after completing an assessment of the deal.
UN Secretary General Antonio Guterres, who is also in Sicily for the meeting, told the BBC the accord would survive regardless of Mr Trump's position.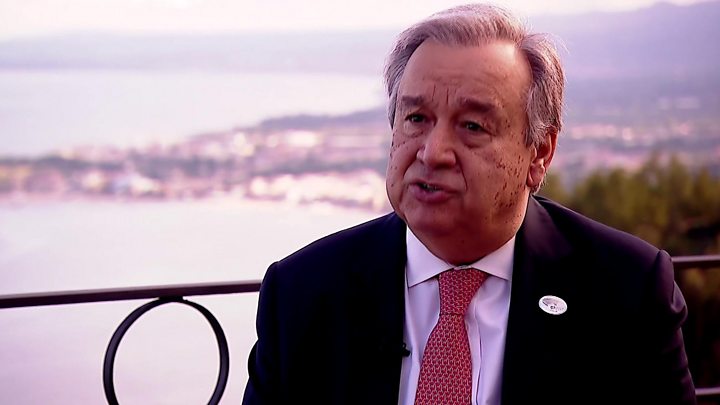 'No major gaffes'
Once his first foreign trip draws to a close on Saturday, President Trump will return to the US where his approval ratings are low and he is coming under increasing pressure over alleged Russian meddling in November's election.
His chief-of-staff, Reince Priebus, said Mr Trump had shown "his commitment to confronting evil, promoting peace and putting America First on [a] historic and highly successful first trip abroad" in a tweet on Friday.
Meanwhile, US media have already been casting their judgements:
However, headlines in the US continue to be dominated by alleged links to Russia, and there are whisperings of discontent within his own party over policy decisions.
Where else has Trump been this week?
Making his first foreign trip as president, he came to Sicily from Brussels where he had held talks with EU and Nato leaders.
At Nato headquarters, he complained that many Nato member states were not spending enough on defence, expecting America to bear the burden.
Before that, he visited Pope Francis in Rome and toured the Middle East - first Saudi Arabia, then Israel and the Palestinian territories.