German police say no evidence of 'terror plot' by teen asylum seeker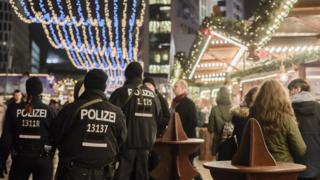 A Syrian teenager arrested on suspicion of planning a terror attack in Berlin has been released after no incriminating evidence was found.
The 17-year-old asylum seeker was arrested in the Uckermark region, north-east of Berlin, on Tuesday.
Police said that he was arrested after a tip-off that he had sent a message to his family saying farewell and that he was joining the "jihad".
But German media reports now suggest that the message was mistranslated.
'No concrete evidence'
The message was sent via WhatsApp in the past week and Brandenburg state authorities received the tip-off late on Monday from two other German states, a police spokesman told the Associated Press.
Police seized a number of mobile phones and a tablet for analysis.
"No concrete evidence was found that he was planning a crime that endangered the state," Reuters quoted prosecutors as saying.
There was also no evidence that he was linked to any foreign militant organisation, the news agency said.
The teenager, who was only named as "Nidal" by police, had been living in a home for unaccompanied underage refugees, and had never come to police attention before.
Brandenburg police said that at its peak, 130 officials were assigned to the investigation.
Germany has been on high alert since December, when a jihadist killed 12 people with a lorry in Berlin.
That attack on a Christmas market by Anis Amri, a Tunisian, put security services under intense scrutiny because of the way in which the attacker, who was later shot dead by police in Italy, evaded their surveillance and crossed European borders undetected.
In April, a 16-year-old Syrian refugee was convicted in western Germany for planning a bomb attack and sentenced to two years in a youth prison. The judges in Cologne said the plot was at a very early stage and did not yet pose any threat to the public.
Chancellor Angela Merkel recently moved to try and ramp up deportations of failed asylum seekers.
Some 280,000 asylum seekers arrived in Germany last year, a drop of more than 600,000 compared to 2015.