Belgium PM Michel 'partially deafened' by royal starter gun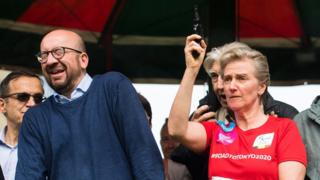 The Belgian Prime Minister, Charles Michel, is suffering from "partial deafness" after a princess fired a starting pistol next to his ear at a running race in Brussels on Sunday.
A photo shows Mr Michel reacting as Princess Astrid fires the blank.
He underwent further medical tests on Tuesday and skipped an appearance in parliament.
His spokesman said he was also suffering from tinnitus, sometimes described as ringing in the ears.
But Frederic Cauderlier told AFP news agency he would not give further details, in order to protect the prime minister's privacy.
The French-speaking Mr Michel hosted US President Donald Trump last week as he visited Brussels.
Princess Astrid, 54, is the younger sister of Belgium's King Philippe. The 20km (12.4 mile) road race on Sunday is an annual event and the princess took part alongside 40,000 other runners after pulling the trigger.