Belgium formally charges man in connection with Paris attacks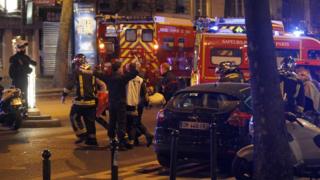 A man has been formally charged in Belgium in connection with the deadly attacks in Paris of November 2015, the federal prosecutor says.
The suspect has not been fully identified but is believed to be 30-year-old Yassine Atar.
He was arrested in March 2016, five days after the attacks in Brussels.
His brother Oussama, who remains at large, is suspected of co-ordinating both attacks. In Paris, 130 people were killed while 32 more died in Brussels.
There is an international warrant out for the arrest Oussama Atar, who is also known as Abu Ahmad.
The man charged, a Belgian national named as Yassine A, was accused of "terrorist assassinations and of participation as a leader in the activities of a terrorist groups", a statement said.
The Atars are cousins of Ibrahim and Khalid el-Bakraoui, the two brothers who detonated themselves in Brussels.
Oussama Atar is suspected of recruiting two Iraqi suicide bombers who blew themselves up in Paris. Both attacks have been claimed by so-called Islamic State (IS)