Post box in County Cavan closed by nesting birds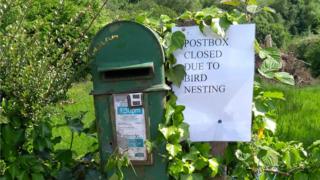 If you take a drive in County Cavan, on the road from Corafean to Arvagh, do not expect to find anywhere to post a letter or postcard.
A family of birds have decided to squat in the local post box and Ireland's postal service has put up a sign warning would-be customers away.
Local post man Paul Cox believes they are sparrows, but others suspect they could belong to the tit family.
Ireland's postal service, An Post, said the notice was normal policy.
"We let nature take its course. It happens from time to time.
"Once the birds are gone the post box resumes its duties."