Paris catacombs: Missing boys rescued after three days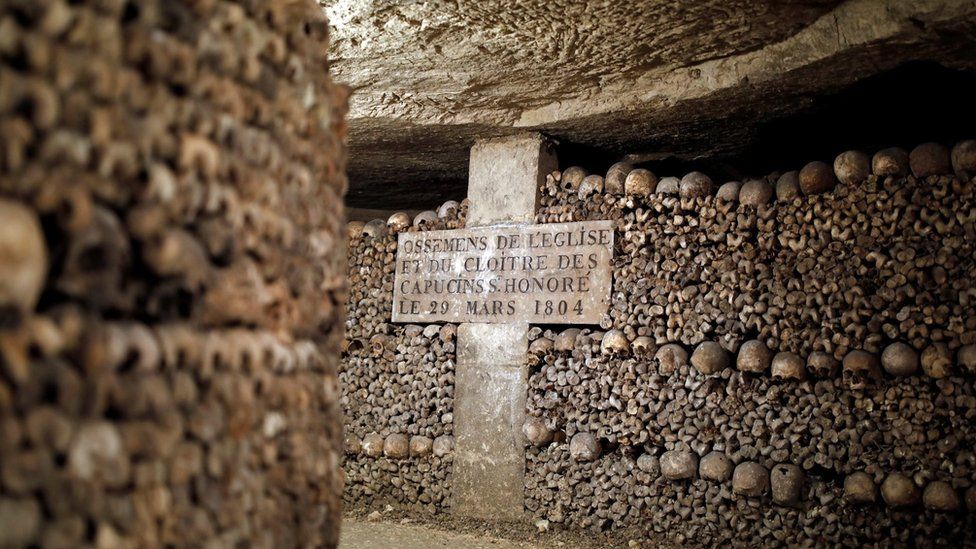 Two teenage boys have been rescued, and are being treated for hypothermia, after spending three days lost in the catacombs beneath Paris.
A spokesman for the Paris fire service said tracker dogs had helped them find the boys, aged 16 and 17, during a four-hour rescue effort.
The catacombs are a network of burial chambers that stretch some 250km (150 miles) beneath the French capital.
Only a small section of the catacombs is open to the public.
But enthusiasts, known in French as cataphiles, have been known to sneak illegally into the tunnels via secret entrances, to explore them or hold secret parties, the BBC's Hugh Schofield in Paris reports.
The two teenagers went into the catacombs on Saturday night. It is not clear when or how the alarm was raised, but police launched their rescue effort three days later.
They were said to be suffering from severe cold but otherwise unharmed.
The bones of an estimated six million people are in the catacombs. They were transported there towards the end of the 18th Century from overflowing mediaeval cemeteries.
The temperature in the dark narrow passageways is about 15 degrees Celsius (59 degrees Fahrenheit), AFP news agency says.