France general 'took fighter jet for weekends'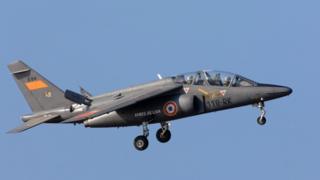 The French air force is investigating a senior officer said to have used a fighter jet to fly for weekends away.
General Richard Reboul flew the Alpha Jet from a training base in Bordeaux in western France to his property in Provence, the Canard Enchaîné reported.
He is also said to have taken a six-seat military transport plane along with a pilot and co-pilot, the satirical newspaper said.
Gen Reboul made about 10 trips in total, the newspaper said.
The Alpha Jet is a light attack and advanced training aircraft manufactured jointly by Dassault in France and Dornier in Germany.
The French air force mostly uses it to train fighter pilots.
---
How long would it take?
The distance between Bordeaux and Salon-de-Provence is 470km (290 miles) as the crow flies.
Car - six hours
Train - seven hours, including two changes
Commercial flight - an hour to Marseille, then 30 minutes by car
Alpha jet - 28 minutes at the jet's maximum speed of 1,000 km/h