Arrest after 192.5kg drugs seizure in County Meath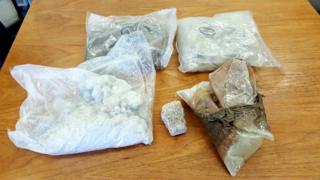 A man has been arrested after police seized drugs including 160kgs of suspected herbal cannabis and about 30kgs of cocaine in County Meath.
About 2.5kgs of cannabis resin was also found at a house at Clinstown, Stamullen.
Police initially said the drugs were worth 5.3m euros (£4.5m), however, it is understood that has been revised downwards to 3.8m euros (£3.3m).
The search involved Garda sniffer dogs. The arrested man is in his 30s.