Former Cork hospital St Kevin's destroyed by fire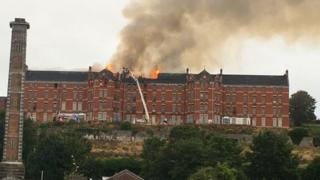 Six fire crews have tackled a fire which destroyed a derelict landmark building in Cork city.
The fire at the former St Kevin's Hospital in Shanakiel has been brought under control.
It is understood a fisherman on the River Lee raised the alarm at about 20:00 local time on Tuesday.
An investigation has started into the cause of the blaze. RTÉ reports that the five-storey Victorian building was built in 1895 to house 490 patients.
It has been the scene of a number of incidents of vandalism since it became derelict.