French MP Laetitia Avia counters cab-driver 'bite' claim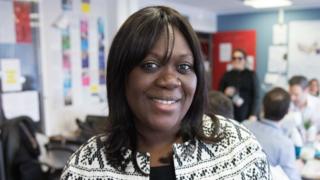 French MP Laetitia Avia has described being scared and panicky during a late-night cab ride, as she countered claims that she bit the driver.
Ms Avia, 31, seen as a rising star in President Macron's LREM party, said "ill-wishers" had been spreading xenophobic comments about the incident.
Le Canard Enchaîné magazine quoted police as saying she bit the driver because she did not like his behaviour.
She told the magazine she did not bite him but grabbed him by the shoulder.
Ms Avia became an MP for La République en Marche (LREM) movement in last month's elections.
Wednesday's edition of Le Canard Enchaîné said police were called to an incident between a taxi-driver and a passenger on the evening of Friday 23 June in the eastern Paris suburb of Saint Mandé.
It quoted the police report as saying Ms Avia announced to them who she was "in a condescending tone".
The report then explained that apparently the driver's card terminal was not working and he proposed driving her to a cash machine.
This idea was "not to the taste" of Ms Avia, it added, saying she "bit the driver to make him stop" the car.
The MP told the magazine that she had grabbed the driver by the shoulder, denying that she had bitten him.
On Wednesday she posted a statement on Facebook (in French) saying that the driver had taken her bank card and put it out of reach.
Complaint filed
She had been scared, had panicked and defended herself after the driver had tried to pull away without her consent or any explanation, she said.
"Certain ill-wishers have been spreading comments with xenophobic overtones," Ms Avia said.
"I do not wish for any woman to live through such a moment."
After 45 minutes of negotiations, police said, Ms Avia agreed to pay her fare.
She then filed a complaint against the driver for attempted theft and kidnapping.
Ms Avia, of Togolese origin, made her mark as a lawyer involved in corporate disputes and has been active in projects in sub-Saharan Africa.
French Prime Minister Eduard Philippe has praised her for her rapid rise to politics from a humble background.