Norway 'troll penis' restored to its former upstanding glory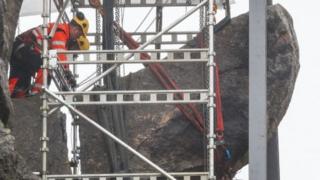 A penis-shaped rock formation in Norway that was apparently knocked down by vandals last month has been restored to its anatomical glory.
Scaffolding was used to hoist up the protuberance, which is reported to weigh about 12 tonnes (12,000kg.)
The restoration operation was funded by a crowdfunding campaign which raised about 227,000 kroner ($27,000).
But tourists will have to wait a week before they can see the formation in order to allow it to fasten properly.
Cement, glue and metal fastenings were used to re-attach the Trollpikken, or "The Troll's Penis" to the cliff.
Police last month said that indentations in the rock suggested vandalism was responsible for the demise of the stone. They say a suspect has been questioned over the incident.
Hikers found the stone, which originally came out from the rock face, resting on the ground.
Days afterwards The Troll's Penis Will Be Re-Erected appeal was launched and had received money from close to 1,000 people.
The rock formation is located in the municipality of Eigersund, in the south-west of the country.