Beyoncé: Cork mother's parody goes viral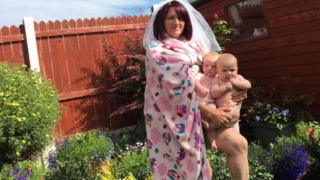 Beyoncé's first picture of twins Rumi and Sir Carter has over 9,000,000 likes and counting but a mother from County Cork is giving her a run for her money.
Sharon Kellaway, from Kilworth, recreated the look with five-month-old-twins Senan and Zoe, in less salubrious surroundings - her own back garden.
Sharon told the BBC: "I saw the picture and thought it was great, so I threw on a pink blanket and did my own version.
"My daughter Megan who'll be six on Sunday took the photo.
"It wasn't meant to be a big deal, I just threw on the pink blanket for a laugh and sent it to my husband and friend in Canada.
"I would be a fan of Beyoncé - I love her pictures, music and her photographs."
However her friend thought it was too good to be kept just between them and urged her to share it on social media.
Since then Sharon's phone has been "ringing off the hook" and she's in danger of turning into as big a star as Queen Bey. She has been on local, national and international media.
"It's gone bananas, I've been on air in Canada and Australia this morning alone".
Beyonce twins: Sir Carter and Rumi pictured for first time
Beyonce's dad says Beyonce and Jay Z's twins 'are here'
Sharon, who is a full-time mum to the twins and Megan as well as Darragh, nine, and Hollie, seven, said she is just a "regular joe whose idea of a good day out is a trip to Dublin Zoo".
She said while she is "loving" the interest it has all become "a bit overwhelming".
"I've never had anything like this - I've got reporters looking for me constantly."