Car crashes onto crowded County Clare beach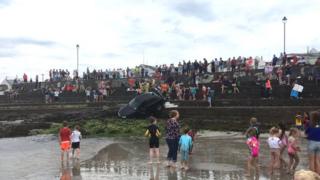 Holidaymakers have narrowly avoided injury after a car crashed onto a beach in the Irish town of Kilkee, County Clare.
The incident happened at about 15:00 BST when a car drove down the steps beside the beach.
Gardaí (Irish police) and the fire service were called to the scene and helped to remove the lodged vehicle.
Irish national broadcaster RTÉ reported that onlookers said it was "very lucky that nobody was hurt" in the incident.
One witness on social media said it was "an absolute miracle" that "nobody was seriously injured".
It is not known how the car ended up lodged on the steps.
Police are investigating the incident.