Rome corruption ring jailed after marathon trial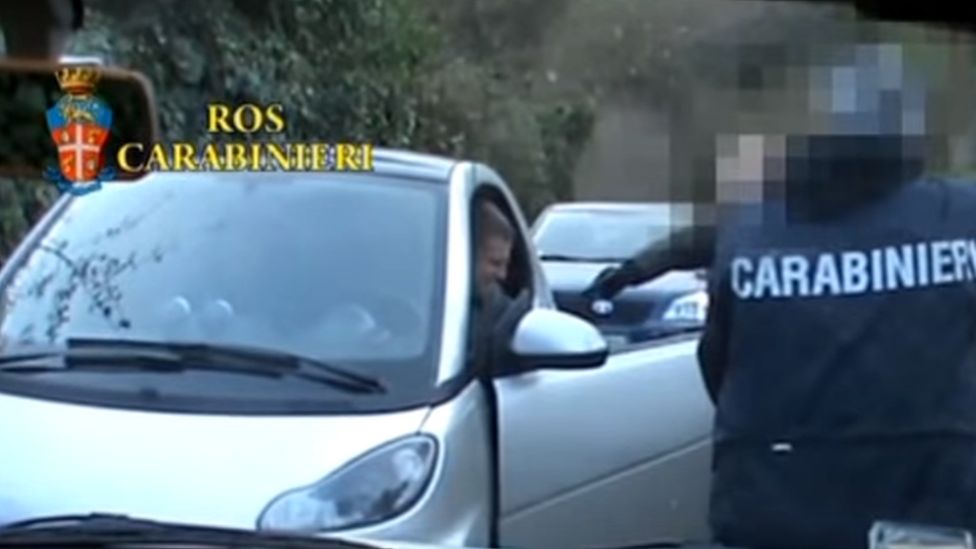 Dozens of members of a gang, whose tentacles stretched deep inside Rome's City Hall, have been convicted of corruption after a 20-month trial in a high-security jail.
At the heart of the case dubbed "Mafia Capital" was one-eyed, right-wing extremist Massimo Carminati, who was given 20 years in jail.
A total of 46 people were put on trial and most were convicted of corruption.
However, the judge acquitted all 46 on the key charge of mafia association.
Millions of euros were stolen in a scandal that many blame for the poor state of services in the capital.
Rome Mayor Virginia Raggi was in court to hear the verdicts, at the end of a trial in which prosecutors revealed how Carminati had paid for the services of a large number of local politicians.
She spoke of a case that had left "a very deep wound in the fabric of Rome, and Romans know it".
One of Carminati's lawyers, Giosuè Naso, condemned attempts to depict the group as a mafia, arguing that it harmed the true fight against organised crime. "If everything is mafia, nothing is mafia," he insisted.
"The ruling is clear - Mafia Capital does not exist,"
Besides Carminati, many of the other figures on trial, including politicians, were given long jail terms:
Carminati's right-hand man, Salvatore Buzzi, was jailed for 19 years
Riccardo Brugia, another accomplice of Carminati, was given 11 years
Luca Gramazio, a former leader of Silvio Berlusconi's Forza Italia party on the regional council, was given 11 years
Mirko Coratti, former head of the centre-left Democratic Party (PD) at Rome city council, received six years
Andrea Tassone, former PD head of Ostia council near Rome, was jailed for five years
Carminati, 58, has already spent years of his life in jail, and lost his eye in a shootout with police in 1981.
He was a member of a notorious far-right group that bombed Bologna railway station killing 85 people in 1980.