Switzerland chainsaw attack: Police hunt Schaffhausen attacker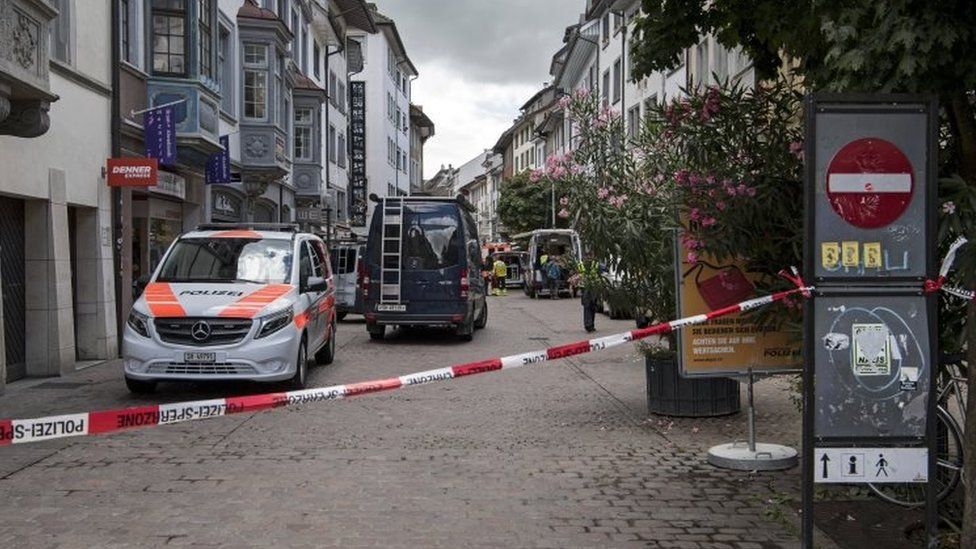 Police are hunting for a man who attacked five people with a chainsaw in the Swiss town of Schaffhausen.
Franz Wrousis is alleged to have launched his assault at a health insurance office shortly after 10:30 local time (08:30 GMT).
The attack sparked a manhunt involving more than 100 officers from both Switzerland and Germany.
Police say the 51-year-old, who lives in the woods, is dangerous and believed to be still armed with the chainsaw.
His exact motives are still not clear, but police Major Ravi Landolt told a news conference: "This is not an attack against a hypothetical person. This is clearly against people from the insurer."
Mr Wrousis, who has two previous convictions for weapons offences, is reported to have entered the offices in Schaffhausen on Monday morning.
He then allegedly attacked a number of people working in the branch of health insurance company CSS.
At least one employee was left with serious injuries, but is now out of danger.
On Monday afternoon, police said the vehicle he was believed to be driving - a white Volkswagen - had been found, but Mr Wrousis remained at large.
People living near the woods just outside the city confirmed to Switzerland's 20 Minuten (in German) that Mr Wrousis had been living in the area for at least a couple of weeks.
One resident told the news site they had reported him to police on two occasions after he verbally attacked them.
Schaffhausen is the capital of the Swiss canton of the same name.
About 36,000 people live in the historic town.