Croagh Patrick: Casualties at County Mayo pilgrimage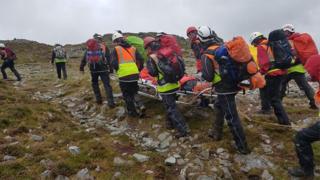 Thirteen people have been injured during this year's annual pilgrimage on Croagh Patrick in County Mayo.
Among them was a man in his 70s who suffered a heart attack and had to be resuscitated before being airlifted.
Pilgrims traditionally climb the peak on the last Sunday in July, known as Reek Sunday.
But conditions on the mountain were described as "appalling" by mountain rescue services.
At least 20,000 people were taking part in the climb. Some walked up the mountain barefoot, in commemoration of St Patrick's ascent to the summit.
But conditions were "absolutely treacherous" due to "persistent, incredibly heavy showers" May Mountain Rescue's Iso Jorgenson told the BBC.
'Barefoot and blind'
Three people had to be airlifted off the mountain in a busy day for mountain rescue teams , she said.
They included a man suffered a fractured arm a 70-year-old woman with a head injury, added Ms Jorgenson.
Other reported injuries included a 10-year-old boy who sustained head and wrist injuries, as well as a 68-year-old man who broke his wrist.
"There is a lot of risk involved," said Ms Jorgenson.
"If you're fit and well, great. But wear the right footwear, bring rain macs. Fortunately, this year we haven't had to deal with any hypothermia but we often do on this hill."
The rescue effort included teams from across the Republic of Ireland, the Police Service of Northern Ireland (PSNI) and helicopters from the Irish Air Corp and Coastguard.
The tradition of climbing the 764-metre mountain dates back about 1,500 years.
It commemorates St Patrick's ascent to the summit of the mountain, where he reputedly fasted for 40 days and 40 nights following the example of Jesus Christ and Moses.
More than 100,000 people visit the mountain every year.
The ancient custom for the most devout climbers has been to make the pilgrimage up the 45-degree slope of loose shale and stones of the mountain "barefoot and blind" - at night and not wearing footwear.