Brittany crepe catastrophe leads to police callout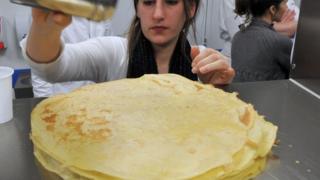 Police in a French coastal town were called because customers were angry not enough sugar was put on their crepes.
The two female customers had eaten their meal and paid the bill, but returned and threatened staff at the creperie in the northern village of Trégastel, Brittany, police said.
The young women were "very aggressive" and threatened to smash the cafe's windows, police said on Facebook.
The owner and customers managed to repel the women before police arrived.
Ouest-France newspaper said no formal charges had been laid against the women after the disturbance on Sunday.