France probes ex-boss of anti-drugs agency Octris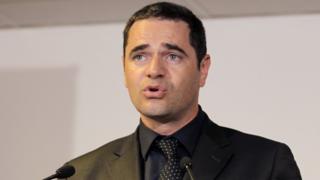 The former head of France's anti-drugs agency, François Thierry, is being investigated on suspicion of complicity in drug-trafficking, prosecutors say.
Mr Thierry ran the agency, Octris, between 2010 and 2016.
The inquiry centres on a record seizure of cannabis in Paris in 2015 - seven tonnes. Mr Thierry allegedly allowed a gang to import the drugs, so that their smuggling methods could be monitored.
He is quoted as saying justice officials knew about the operation.
The opening of a formal investigation can lead to charges, but for now Mr Thierry remains free.
He is suspected of "complicity in the storage, transportation and acquisition of drugs and complicity in the export of drugs by an organised gang", AFP news agency reports.
He allegedly omitted to tell justice officials that the gang had actually smuggled at least 15 tonnes of cannabis into France. In the operation, Octris allegedly planned to infiltrate one of its officers, Sofiane Hambli, into the Morocco-based gang.
Seven tonnes of the drug were found hidden in vans in the up-market 16th district of Paris.