Ibrahim Halawa trial verdict postponed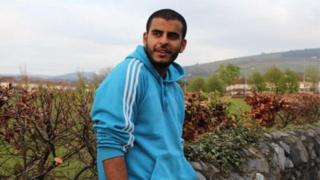 A verdict in the case of an Irishman who has been held in an Egyptian jail for four years has been delayed.
Ibrahim Halawa from Dublin was arrested when he was 17 during a siege at the Al-Fath mosque in Cairo in 2013.
The 21-year-old had expected to learn his fate on Monday, but the judgment has been put back until 18 September.
Irish Foreign Affairs Minister Simon Coveney expressed frustration with the delay, and said work would continue to ensure Mr Halawa's repatriation.
"This is very frustrating for Ibrahim Halawa and for his family," said Mr Coveney. "I fully share that sense of disappointment and frustration at yet another delay in this long-running case.
"Nonetheless, we will be continuing to work in support of Ibrahim and his family and doing everything we can to ensure that he is able to return to Ireland as soon as possible once the trial ends."
Adjourned 20 times
Mr Halawa has been accused along with nearly 500 others of inciting violence, riot and sabotage.
The trial finally got under way this month, having been adjourned more than 20 times.
In a planned phone call later, Taoiseach (Irish Prime Minister) Leo Varadkar is expected to ask Egypt's President Abdel Fattah el-Sisi for Mr Halawa to be allowed to return to Ireland after his trial, Irish broadcaster RTÉ reported.
Mr Sisi has previously suggested he will pardon the prisoner if he is convicted - but has refused to act before the end of the trial so as not to interfere with the judicial process.
Hunger strikes
In April, the Irish government arranged for a doctor to visit the Dubliner in jail following concerns about his health.
He has staged a series of hunger strikes in protest at being imprisoned without trial for so long.
In March, his lawyer said he was so weak that jail staff used a wheelchair to take him to family visits.
Mr Halawa is the son of the most senior Muslim cleric in the Republic of Ireland.
He was arrested with three of his sisters.
The family said they were on holiday at the time and said he had sought refuge in the mosque to escape the violence outside.
The women were released after three months, but their younger brother remained in jail.