Russian taxi drivers sacked for green-dye smearing of women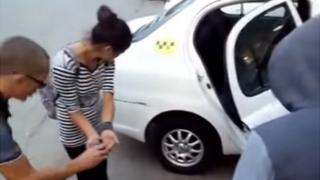 A taxi firm in Russia's far east has sacked two of its drivers after they forced two women to smear their faces with green antiseptic dye - apparently as punishment for not paying.
A video clip of the incident, in the city of Khabarovsk, went viral in Russia. The dye - zelyonka - is hard to remove but is not usually harmful.
The Maxim cab firm acted after a taxi drivers' union demanded the dismissals.
Previously zelyonka has been thrown at some opposition politicians in Russia.
Police are investigating the Khabarovsk attack. The clip shows one of the women trying to hide her green face from the camera, while her companion receives green dye to smear on her own face.
It is not clear whether the women really lacked the money to pay for their journey.
In March and April the dye - widely used in Russian clinics - was thrown at Alexei Navalny, a leading critic of President Vladimir Putin and anti-corruption campaigner.
After the second attack, in the Siberian city of Barnaul, Mr Navalny flew to Barcelona for an operation on one of his eyes. The dye thrown at him had apparently been mixed with a caustic chemical.
In February, another critic of Mr Putin, Parnas party leader Mikhail Kasyanov, also suffered a zelyonka attack.