Italy drought: Rome forced to cut water pressure at night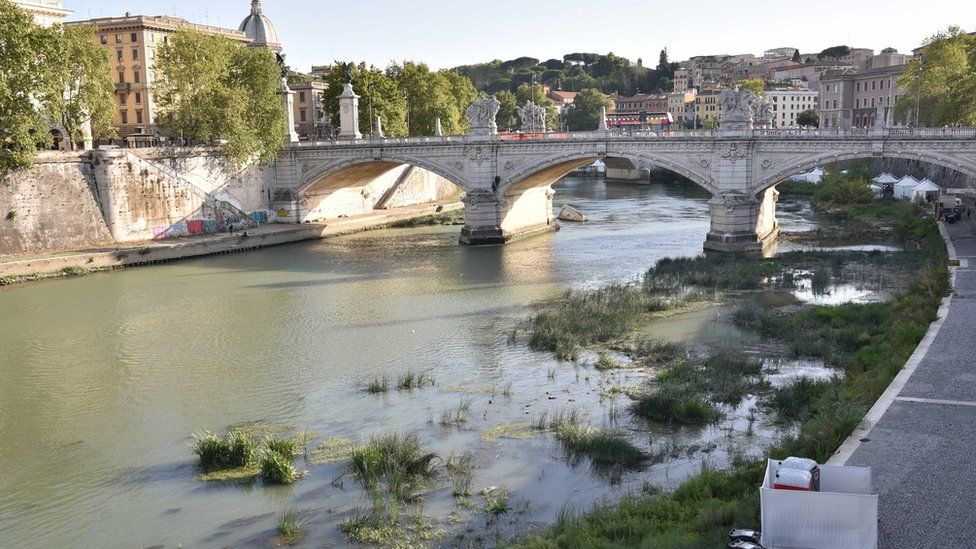 It has hardly rained in Rome for months and, with Romans returning from their summer holidays, the city's water company has decided to act.
From next week water pressure will be cut during the night on peak days in September. Higher buildings could lose their supplies altogether.
Water company Acea says it has managed to plug 1,300 water leaks since May.
But Rome's "extraordinary drought" means it has less and less water available for the capital's citizens.
Romans had already been threatened with water rationing earlier in the summer because of a row over water being extracted from Lake Bracciano, north of Rome, which provides the city with 8% of its water needs. At one point the Vatican said it was turning off its 100 fountains.
But the water company was eventually allowed to continue using the lake when it promised to cut its withdrawals from 1,100 to 400 litres per second.
And it was able to hold off taking further action in August, when water consumption goes down dramatically because Romans head to the beaches for their holidays. However, with the summer break coming to an end the effects of the drought are even worse than before.
Water levels in the two ancient aqueducts supplying Rome, Capo and Marcio, have continued to fall and Acea has said it has no choice but to act at times of peak consumption in September in both Rome and neighbouring Fiumicino.
Italy, like much of the rest of Southern Europe, has been hit by months of low rainfall.
But Rome Mayor Virginia Raggi won power promising to improve the city's notorious transport, water and rubbish services, which have been plagued by corruption and lack of investment. So far there has been little sign of any improvement.
The water company says it has checked 4,700km, almost 90% of the Rome water network, for leaks.
But the national government has expressed alarm at the potential health consequences of the latest step, and business leaders say the water shortages have led to a severe crisis in the tourism and recreation sector.