Barcelona attacks: Las Ramblas gifts to go to city museum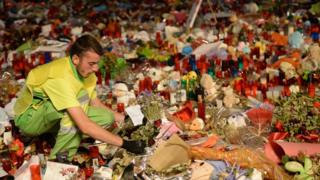 Memorial gifts left on Barcelona's Las Ramblas in a tribute to the victims of this month's attacks will be given to the city museum, says the city's mayor.
A huge carpet of offerings has filled the pedestrianised street, where a van attack killed more than a dozen people.
Authorities began dismantling it on Monday night, citing security reasons and a need to restore normality.
Mayor Ada Colau called the gifts an "immense treasure", and said they will all be kept or recycled.
Hundreds upon hundreds of bouquets, wreaths, stuffed toys, footballs, candles and cards have formed the improvised memorial along the boulevard, with banners and flowers also strung from trees and street lights.
The outpouring followed a series of attacks in the city and nearby Cambrils on 17 and 18 August, which left 16 people dead. A group of 12 jihadists has been blamed for the assaults.
The Barcelona History Museum has mapped all the memorials that have sprung up around town in response. A total of 131 sites - large and small - have been counted.
Officials say everything has been photographed and all the written messages have been kept. Some will go to the museum and the rest may form part of a public exhibition.
"Nothing will be lost," said Mayor Colau, according to Spanish news agency EFE.
"Anything that is recyclable will be recycled, and the flowers will be used to make compost," she added.
Mayor Colau also said that Barcelona City Council contacted their Parisian counterparts for advice on what to do with citizens' tributes. Huge memorials were laid out there after attacks by gunmen and suicide bombers left 130 people dead in 2015.
On Tuesday, with the bulk of the memorial already gone, cleaners started removing ingrained candle wax from Las Ramblas' pavements.
Where possible, the wax will be recycled by social projects and used to make commemorative art, said El País newspaper.
"Each of these memorial spaces is a little gem," said deputy mayor, Gerardo Pisarello, on Facebook. "A heritage that we have the duty to preserve as part of our collective memory."
A smaller area is being left on Las Ramblas for those who still want a place to make their respects.