Case against Auschwitz Nazi, 96, to be thrown out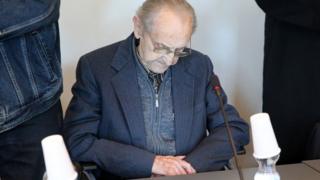 German prosecutors have said a case against a 96-year-old former SS medic should be thrown out because he is unfit to stand trial.
Hubert Zafke is accused of assisting in the killing of 3,681 people at the Auschwitz-Birkenau concentration camp.
Medical evaluations in March and July this year determined Mr Zafke, who has dementia, to be "unfit to stand trial".
A court spokesman said "the defendant is no longer able to reasonably assess his interests".
It is estimated that 1.1 million people, most of them European Jews, died at Auschwitz before it was liberated by Soviet forces in 1945.
Mr Zafke's defence have said he suffers from poor health, high blood pressure and suicidal thoughts.
His trial, which began in February 2016 in the north-eastern town of Neubrandenburg, has been postponed three times because of concerns regarding his health.
Stefan Urbanek, a spokesman for the regional prosecutor's office, said, quoted by AFP: "Now the dementia has reached a severity that the defendant is no longer able, inside and outside the courtroom, to reasonably assess his interests or coherently follow or give testimony."
He said that prosecutors were required by law to submit a motion to dismiss the case after receiving this independent medical evaluation.
A lawyer for the two co-plaintiffs, who are sons of a woman murdered at Auschwitz, acknowledged the motion to end the trial "complied with the rule of law".
Auschwitz role
The former SS medic served for several weeks in the summer of 1944 in the medical unit at the Auschwitz death camp in Nazi-occupied Poland.
Hubert Zafke denies the charges, and argues that he treated only wounded soldiers and members of the SS.
A Polish court sentenced him to a four-year jail term after the war, and he was released in 1951.
But during his first questioning by German prosecutors in 2014, he denied ever having worked at Auschwitz.
He later acknowledged his presence but said he was unaware of the gas chambers and crematoria at the death camp until after the war had ended.
Teenage Jewish girl Anne Frank arrived at the camp during the period covered by Hubert Zafke's indictment. She died in another camp, Bergen-Belsen, shortly before it was liberated by the British Army in 1945.
Proceedings against Mr Zafke, a farmer's son who joined the SS when he was 19, were halted last October following complaints that the judges were biased.
The International Auschwitz Committee, which represents Holocaust survivors, has previously attacked Germany's handling of the case, saying the court was hurtling "between sloppy ignorance and complete disinterest" in a resolution.