Frankfurt WW2 bomb defused after mass evacuation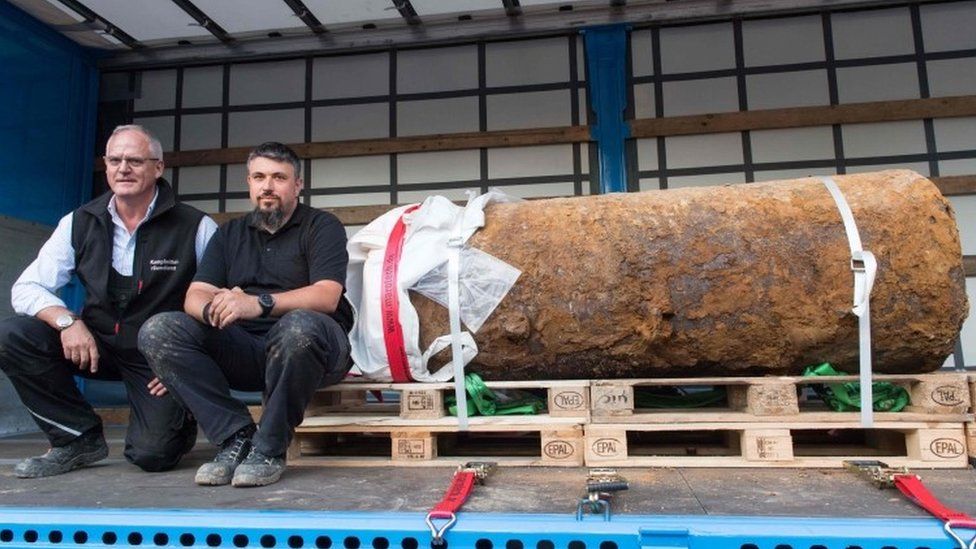 Bomb disposal experts in Frankfurt have successfully defused a massive unexploded bomb from World War Two, officials have announced.
The news was greeted with spontaneous applause among some of about 65,000 people who were evacuated to enable experts to make the bomb safe.
Many residents are now awaiting permission to return to their homes.
The evacuation on Sunday morning was the biggest in post-war German history, involving hundreds of officials.
Police checked every designated house with heat-detection technology to make sure everyone was out.
The evacuation area in the Westend district included hospitals, nursing homes and Germany's central bank.
There are believed to be hundreds of thousands of unexploded wartime bombs across Germany.
Police early on Sunday morning cordoned off the 1.5km (1 mile) evacuation area as residents carrying luggage vacated the danger zone. A few stragglers who were slow to move may be prosecuted, local media reported.
Many residents made the most of the day, either by visiting relatives or enjoying a day out in a different part of the city.
Police told local media that the evacuation took place on schedule even though a handful of residents - for various reasons - were not initially prepared to vacate the area.
The 1.4 tonne British bomb was found on a building site on Wednesday.
More than 100 patients from two hospitals were moved on Saturday including premature babies and people in intensive care. Some care home residents left early on Sunday.
Fire and police chiefs in the city warned that an uncontrolled explosion of the HC 4000 bomb would be powerful enough to flatten an entire street.
The bomb disposal operation was completed ahead of the 12-hour estimate.
Police helicopters carrying heat detecting cameras scoured the area as bomb disposal experts began their task. Police will continue guarding empty houses and apartments from burglars until evacuees have returned home.
The area affected included 20 retirement homes, an opera house, and Germany's central bank where half the country's gold reserves are stored.
The city opened shelters for evacuees to spend the day, and most museums opened their doors for free.
A smaller evacuation took place on Saturday in Koblenz, about 110km (68 miles) west of Frankfurt, while experts disposed of a World War Two bomb that had been found during the construction of a new kindergarten.
So, how many unexploded bombs are there in Germany?
An average of about 2,000 tonnes of unexploded ordnance are found each year in Germany. It's estimated that about half the 2.7 million tonnes of bombs dropped by Allied powers during World War Two landed on German soil (compared to about 74,000 tonnes of bombs dropped on the UK by Germany). Many of the bombs were equipped with malfunctioning time-delay fuses, and many never went off.
Adding to the problem are Russian artillery shells, German hand grenades and tank mines, as well as Russian munitions from training facilities in post-war East Germany.
The problem is so widespread that Germany has a bomb-disposal unit, the Kampfmittelbeseitigungsdienst (KMBD), dedicated to the problem. Its technicians are among the busiest in the world, deactivating a bomb every two weeks or so - and they estimate their work will continue for decades to come.
Do the bombs pose a real threat?
Dozens of bomb-disposal technicians and hundreds of civilians died from uncontrolled explosions in the decades following the war. The rate of fatalities has slowed since, with 11 technicians said to have been killed in Germany since 2000.
But experts warn that the devices that remain could be getting more unstable as the munitions age and their fuses grow more brittle, and as bombs are discovered in more built-up, harder-to-reach areas.
The problem is also worse in certain parts of Germany. Oranienburg, just outside Berlin, has the dubious distinction of being the "most dangerous town in Germany". Under Adolf Hitler, it contained an armaments hub, aircraft plant, railway junction and a nuclear research facility - so it was a key target for the Allies, who gave it an aerial pounding. Almost 200 bombs have been defused in the town since the end of the war, and residents are well-drilled in the evacuation procedure. But with experts estimating that some 350-400 bombs remain buried, the task is far from complete.
Other WW2 bombs recently discovered in Germany