North Korea nuclear blast detected by Irish school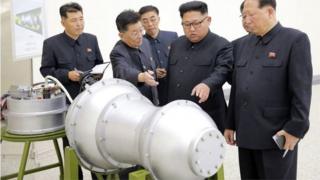 A nuclear bomb test carried out by North Korea on Sunday was so powerful it was detected 5,300 miles away by an Irish school.
A seismometer in St Columba's College in Stranorlar, County Donegal, picked up the blast in the early hours of Sunday morning.
The US Geological Survey put the tremor at 6.3 magnitude on the Richter scale.
Physics teacher Brendan O'Donoghue detected the signal after finding out about the bomb test.
After filtering the recorded data, he said he found the tell-tale seismic signal of an explosive event.
"I went looking for the signal and filtered it so I could try and isolate the blast," he told BBC News NI.
"I found our seismometer had recorded it at 03:41 UTC, and the US Geographical Survey put the blast at 03:30.
"Previously there's been earthquakes in the Japan region that have taken 10 minutes to get to us, so I knew this must be it.
"There's a clear moment in the signal when you can see an explosion. It gives us a distinct fingerprint compared to an earthquake."
He added: "I have a trace of a signal we recorded of a quarry blast near here and this is what this blast looks like. In a way, this explosion was one of the bigger quarry blasts the world has ever seen."
The explosion was also picked up by four Irish National Seismic Network (INSN) seismometers dotted around the Republic.
St Columba's is part of the Irish Seismology in Schools Network, a project run by the Dublin Institute for Advanced Studies (DIAS), and has been monitoring the earth's movement since 2010.
It has previously detected major seismic events such as the Japanese earthquake and tsunami in 2011.
'Can't believe it'
Mr O'Donoghue said the school was also part of a global network of organisations monitoring seismic activity and had developed an enviable record of detecting earthquakes.
"We've had the seismometer in the back of one of our rooms for the last seven years, it just records data all the time," he said.
"As far as this technology goes, it's a relatively cheap seismometer, but it's still very sensitive.
"It's capable of measuring very faint noise such as a truck going past. It's even picked up waves from the Atlantic when the weather has been bad.
"So you have to use filters to get rid of the extra noise and isolate the signal. There's a bit of a dark art to it, but I've developed a familiarity with it.
"I probably spend about half an hour a week just looking through what we've recorded."
The teacher added that he had not yet had the chance to tell pupils about the school's latest seismic discovery, but he reckoned it would turn a few heads.
"Usually when I bring in a print out of a signal of an earthquake thousands of miles away, they laugh and can't really believe it," he said.
"It does work as a hook to teaching. In 2011, with the tsunami, we were able to tell pupils that the ground had moved for four hours afterwards by 1cm.
"And all that from something that happened across the world."
He added, with a laugh: "I also remember seismologists in England talking about Leicester City fans causing an earthquake after they scored a goal on their way to winning the Premier League, but before that we picked up a crowd cheering after a goal was scored at a GAA match in Ballybofey just across the river.
"So I feel like we beat them to it."