The housing and homeless crisis facing Leo Varadkar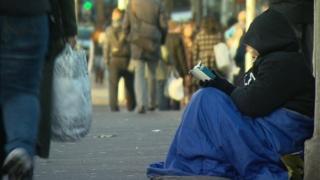 The Dáil (Irish parliament) may not be back until later this month but housing and the homeless crisis is one of the major issues facing the new taoiseach (Irish prime minister) and his minority Fine Gael-led government.
Leo Varadkar has a lot on his plate at the moment.
That includes Brexit, the absence of devolution in Northern Ireland, a malfunctioning health service and a budget in a few weeks.
But if you ask people what they think the big issue is, most would probably say housing.
Eoghan Murphy, the Irish housing minister, has said funding will not be a problem in the Irish government's efforts to tackle the crisis.
And it is a crisis.
In the last week or so three homeless people in different parts of the Republic of Ireland have died, two of whom had been living rough.
The number of homeless people - many living in hotels paid for by public money - now exceeds 8,000.
Many of those are children who have used the anonymity of radio to tell their stories about telling school friends that they are homeless.
Mr Murphy has been meeting local authority chief executives in an attempt to deal with the issue.
There is a consensus that more social housing and affordable homes need to be built and that existing vacant council accommodation that needs repairing should be.
But it will be some time before people are in a position to move in.
On Friday, speaking after a housing summit, Eoghan Murphy pledged to build an extra 800 social homes next year bringing the total to 3,800.
He also promised that his department will deliver 200 extra emergency beds for homeless people in Dublin by December.
High rents
The meeting with local authority bosses also agreed that a further €10m will be provided for special family emergency accommodation units called Hubs.
Homeless families in Dublin wanting to move to other parts of the country will be assisted under the first part of this new housing strategy announced on Friday.
House prices in some areas are almost back to pre-crisis levels and rents are even higher than then in some areas.
And that is not good news either for young people struggling to find affordable homes or for a government wanting to attract talented people leaving the UK because of Brexit.
Opposition parties have called on the government to act and not involve itself in PR exercises on an issue that worries so many people.