Rage at tsar film suspected in Russia car blaze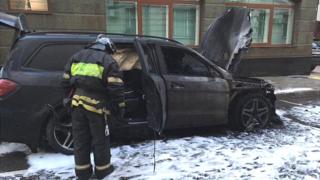 Two cars have been set ablaze in Moscow outside a lawyer's office linked to a film about Russia's last tsar.
Lawyer Konstantin Dobrynin is acting for the film director Alexei Uchitel, whose movie Matilda explores the love of Tsar Nicholas II for a ballerina.
Mr Dobrynin posted Facebook photos of burnt-out cars and notes left at the scene saying "Burn for Matilda".
Nicholas II was canonised in 2000 by the Orthodox Church, so campaigners see the exposé as an insult.
MP Natalia Poklonskaya, a staunch supporter of President Vladimir Putin, has been campaigning to get the film's release blocked.
An early showing of Matilda is taking place in the far eastern city of Vladivostok on Monday, amid tight security.
A Moscow cinema decided to cancel its showing for "technical" reasons. The film goes on general release in Russia on 26 October.
The film - containing some erotic scenes - depicts the romance between Nicholas II and ballerina Matilda Kshesinskaya, before Nicholas married and became tsar.
After the Bolshevik Revolution in 1917 the imperial family was summarily executed by communists in 1918.
Mr Dobrynin said the cars wrecked by fire early on Monday did not belong to his lawyers' practice.
Early on 31 August some petrol bombs were thrown at a St Petersburg building housing Uchitel's studio, but the interior was not damaged. Uchitel has received several Russian awards for previous films.
In his Facebook post, Mr Dobrynin said: "While Poklonskaya is telling everyone about some lawsuits by relatives of the holy tsar and trying to ban the film, her supporters continue throwing petrol bombs and start fires.
"And all this is happening simultaneously. Today they showed their face to Moscow and Muscovites, and came to our office. At 5.30am. Have a nice day, Russia."
Crusade against film
Ms Poklonskaya urged police to investigate the arson attack scrupulously and determine "who is the main beneficiary of such a provocation".
A group calling itself "Christian State, Holy Russia" has protested against Matilda, saying the film has "spat in the face" of believers.
Letters have been sent to cinemas, warning they will "burn" if they dare screen it. The Kremlin spokesman called that "unacceptable".
On 4 September a man was arrested in the Urals city of Yekaterinburg after crashing his jeep into a cinema, setting the entrance ablaze. The attack was linked by officials to the film Matilda.
Separately, a prominent Russian investigative reporter, Yulia Latynina, has fled Russia after an arson attack on her car. In August 2016 an assailant threw excrement at her.
Latynina writes for the daily Novaya Gazeta, whose reporters specialise in exposing official corruption. The paper's reporters have been harassed and in some cases murdered in connection with their work.