Russian cinemas shun tsar film Matilda after threats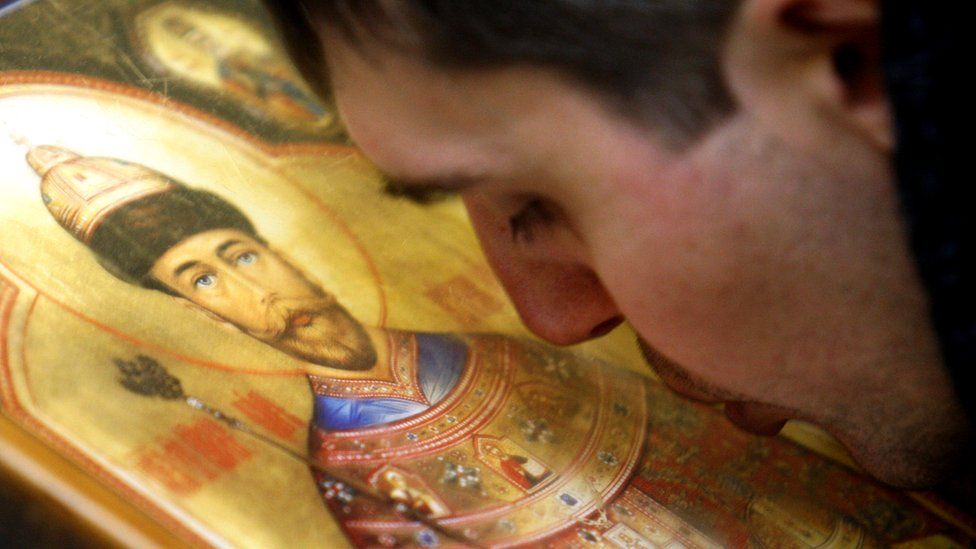 Russia's biggest cinema chain has cancelled screenings of a controversial film about the love life of the last tsar Nicholas II after Orthodox Church activists strongly condemned it.
Matilda explores his love for ballerina Matilda Kshesinskaya before he came to the throne, and includes erotic scenes.
The Cinema Park and Formula Kino group said it had to "protect cinemagoers from risks" in light of recent threats.
The film is due to go on general release in Russia on 26 October.
The cinema chain's spokeswoman Alexandra Artamonova told BBC Russian that the cancellation "is a necessary measure - we have very many cinemas in 28 Russian cities and we're responsible for them".
The chain noted that there had been "extreme actions by opponents of the film" and threats made against cinemas.
Matilda's director Alexei Uchitel could not be reached for comment. But the producer, Alexander Dostman, shrugged off the cinema chain's move, saying, "There's no point worrying - people will still watch the film anyway".
On Monday two cars were torched outside the Moscow office of a lawyer acting for Uchitel, a director who has picked up several Russian awards for previous films.
Lawyer Konstantin Dobrynin posted Facebook photos of burnt-out cars and notes left at the scene saying "Burn for Matilda".
Nicholas II was canonised in 2000 by the Orthodox Church, so campaigners see the exposé of his love affair as an insult.
MP Natalia Poklonskaya, a staunch supporter of President Vladimir Putin, has been campaigning to get the film's release blocked.
An early showing of Matilda went ahead in the far eastern city of Vladivostok on Monday, amid tight security. But a Moscow cinema decided to cancel its showing for "technical" reasons.
Early on 31 August some petrol bombs were thrown at a St Petersburg building housing Uchitel's studio, but the interior was not damaged.
The Kremlin has condemned letters that warned cinemas they would "burn" if they dared screen Matilda. There have been protests by a group calling itself "Christian State, Holy Russia".
On 4 September a man was arrested in the city of Yekaterinburg after crashing his jeep into a cinema, setting the entrance ablaze. The attack was linked, by officials, to Matilda.
After the Bolshevik Revolution in October 1917, the imperial family was summarily executed by communists the following year. Nicholas II had already abdicated.