Spain Catalonia: Ballot papers for banned referendum to be seized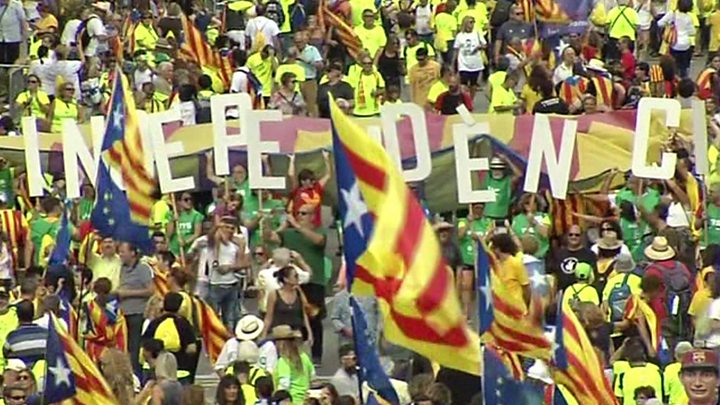 Catalonia's public prosecutor has ordered the seizure of all ballot papers ahead of a banned independence referendum deemed illegal.
The vote on breaking away from Spain, planned for 1 October, has been suspended by the constitutional court.
But Catalonia's pro-independence government says it will still go ahead.
As a result, the Public Prosecutor's Office instructed security forces to take everything which could help with the "consummation of the crime".
This includes promotional materials and the ballots themselves, Spanish newspaper El Pais reports [in Spanish].
The order came as Spanish tennis champion Rafael Nadal came out strongly against the plans.
"You can't skip the laws because you want to skip them," Nadal told a paper.
'Better with Spain'
In an interview for Spanish daily El Mundo (in Spanish), Nadal said: "I think what is happening on 1 October ought not to take place because, from my point of view, everyone should respect the law.
"I can't run a red light because that traffic light doesn't seem right to me."
Fresh from his third US Open and 16th Grand Slam title, Nadal is one of Spain's best-known sports figures but he also has close connections to Catalonia.
Born and raised on Majorca, he speaks both Catalan and Spanish, and has long championed Spanish national unity.
As AFP news agency notes, the centre court at Barcelona's Royal Tennis Club, which hosts the Barcelona Open, was renamed the Rafael Nadal Court this year.
"I feel very close to the Catalans and I feel very Spanish as well," Nadal told the newspaper.
"I don't understand Spain without Catalonia. I don't want to understand or see it... Spain is better with Catalonia and Catalonia is better with Spain from my point of view."
Meanwhile, Manchester City manager Pep Guardiola, who is from Catalonia, has previously said he supports the right to vote.
At a rally in the Catalan capital Barcelona in June, the former Barcelona manager made an impassioned call for the region to be allowed to decide its future for itself.
"We will vote, even if the Spanish state doesn't want it," Guardiola told the crowd. "There is no other way."
The referendum, which was approved in the separatist-dominated regional parliament, has been suspended by Spain's constitutional court but Catalan leaders have vowed to hold it regardless.
In his speech in June, Guardiola appealed to the international community and "democrats the world over" to support Catalans' "right of freedom of expression and the right to vote".
Barcelona saw a massive outpouring of support for independence on Monday when Catalans marked their national day, the Diada, with marches and rallies.