Irish government begins new Garda Síochána chief search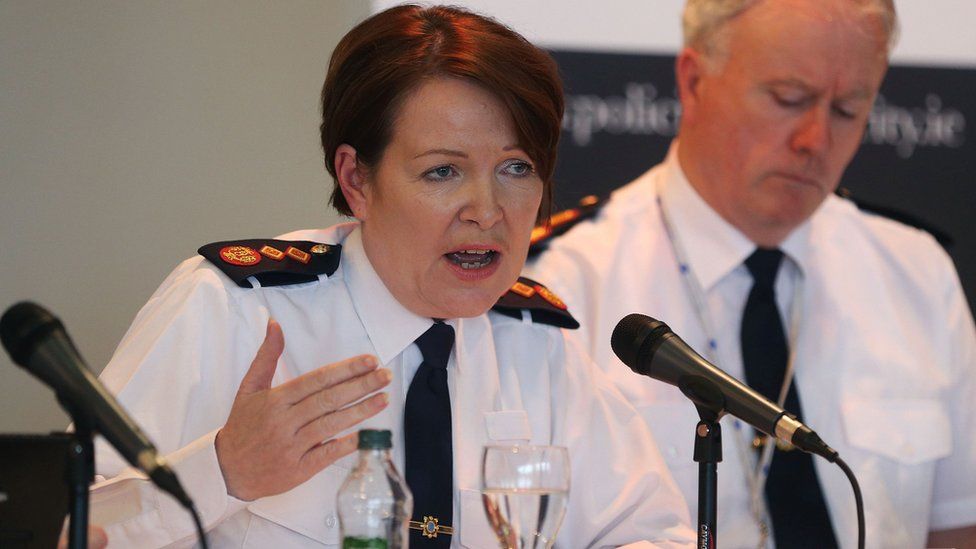 The Irish minister for justice has briefed the cabinet about the process to recruit a new commissioner of An Garda Síochána (Irish police).
Charlie Flanagan has already said that the police authority will advertise the post within weeks.
It is believed the recruitment process could take months.
Ms O'Sullivan said too much of her time was being spent answering questions about malpractice in the force rather than dealing with reforming it.
The task of finding and recommending a successor falls to the independent Policing Authority, which oversees the policing performance of An Garda Síochána.
Several politicians from the government and the opposition have suggested that Ms O'Sullivan's replacement cannot be an internal candidate, given the perceived culture of the force.
But that may also create problems.
The Republic of Ireland, unlike the United Kingdom, does not have a separate state security organisation like MI5.
The head of An Garda Síochána is in charge of both policing and state security, and there is some unease in government circles about an international candidate because it would mean that a foreigner would be in charge of Irish state security.
It is possible, but unlikely, that the government might decide to follow the UK's example and separate policing and security functions.
Then there is the problem of pay.
Any international candidate not put off by what happened to the two previous commissioners and the cultural issues that continue to haunt the force is unlikely to be impressed by the 180,000 euros (£162,000) plus expenses that Ms O'Sullivan received.
Government sources have suggested that a salary increase of up to 300,000 euros (£270,000) is possible if it attracts the right candidate.
Even though the job has yet to be advertised, there is speculation about who might make a good commissioner.
The names of two former senior American officers with experience of overseeing the Garda Síochána - Bob Olson and Kathleen O'Toole - have been mentioned along with past senior officers in the Police Service of Northern Ireland, Judith Gillespie and Will Kerr.
But the smart money may well be on a senior civil servant.
Robert Watt, the secretary general at the Department of Public Expenditure and Reform, has also been touted as a possible candidate.
At this stage, however, there is no clear idea as to who the new Garda commissioner will be - but that will not stop many months of speculation.