Italian couple and son die at Solfatara volcano crater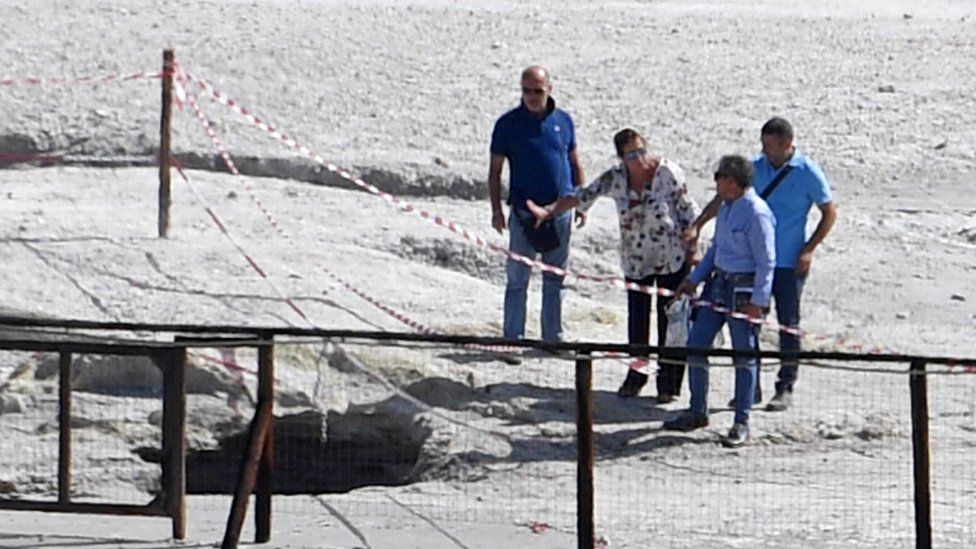 A boy and his parents have died after falling into a pit in a volcanic crater at Solfatara near Naples.
The drama unfolded during a family trip at the end of the school holidays, when the 11-year-old walked past a barrier into a prohibited area.
When his parents tried to pull him to safety, part of the crater collapsed and they fell 3m (10ft) into a hole.
It is thought all three were overcome by fumes. Their seven-year-old son did not enter the crater and survived.
Solfatara of Pozzuoli is one of a number of volcanoes to the west of Naples and is popular with tourists. A dormant volcano that last erupted in 1198, it has a shallow crater and is known for its sulphurous fumes and emissions of steam.
The family was visiting from Meolo near Venice in north-eastern Italy, reports said. The parents were both in their forties. Italian reports named the three as Massimiliano Carrer, Tiziana Zaramella, and their son, Lorenzo.
The area where they died is known for a type of quicksand, where the ground is prone to crumbling.
When the boy went into the quicksand, his father tried to help him and fell into the pit. His mother went to their aid and all three are thought to have become trapped and lost consciousness because of poisonous gases. The local civil protection department said that inside the pit was boiling hot mud.
Firefighters managed to recover the three bodies and Pozzuoli mayor Vincenzo Figliolia said he had never come across such a tragedy at the site in 40 years.
The surviving son was taken to a bar close to the entrance, where owner Armando Guerriero told La Repubblica: "We tried to calm him down, as he was obviously very shocked. He was repeatedly asking for the rest of his family."
The seven-year-old was later looked after by social workers and a psychologist. He was due to be reunited with his grandparents later.
A local worker at the site, Diego Vitagliano, said the accident was the worst thing he had seen in his life.