Russian cities targeted by mystery bomb threats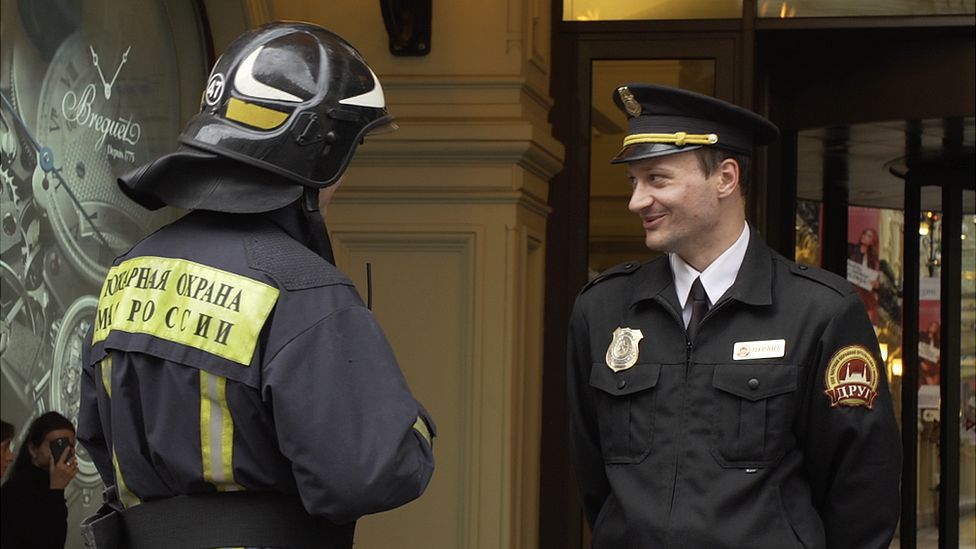 For four days running, towns and cities across Russia have been hit by a wave of bomb alerts.
Dozens of schools, shopping centres, railway stations and public buildings have been evacuated. Tens of thousands of people have been affected.
So far, all of the alerts have proved to be hoaxes and the public has been urged to remain calm.
The source of the threats is unclear but one official suggested they had originated outside Russia.
"There's reason to assume this was all organised abroad," the official in Chelyabinsk told Interfax news agency.
On Wednesday, the bomb scares spread to Moscow, prompting the evacuation of the luxury GUM shopping centre near the Kremlin. In the capital alone, more than 50,000 people were caught up in the alerts, reports said.
Pro-Kremlin newspapers have pointed to a "major hacking attack", possibly from Ukraine. State TV said 205 companies and organisations had been targeted nationally.
Other reports suggested the threats were made via scrambled internet connections and were difficult to source. One official was quoted as saying the evacuations were part of an anti-terrorist drill but that has not been confirmed.
The hoax calls began on Sunday but the extent of the alerts only became clear by Tuesday:
In Chelyabinsk, in the southern Ural mountains, more than 11,000 people were cleared from 10 buildings on Tuesday
In Perm to the north-west, 5,700 people had to leave schools and public buildings
In the southern city of Stavropol alone, 1,500 phone hoaxes had been received, state TV reported
Other cities affected ranged from Krasnoyarsk, Novosibirsk and Omsk in Siberia to the enclave of Kaliningrad in the far west
They continued to spread on Wednesday, with airports also targeted:
In Moscow, bomb alerts were reported in Red Square, at railway stations, universities and shopping centres
The River Volga cities of Samara and Saratov were hit, with seven shopping centres targeted in Saratov alone
Several more Siberian cities were affected: in Ulan-Ude there were alerts at six shopping centres, four schools and bus and railway stations
Irkutsk and Yakutsk were hit, and in Tomsk more than 10 schools were evacuated, along with local courts, shopping centres and a bus station
No-one is certain but the alerts appear to have come in the form of a pre-recorded voice message via internet telephony. One message received in the city of Ufa was broadcast on national TV.
"An explosive device has been placed in the building. Evacuate the people, call the bomb squads. This is not a drill. Do you understand me?"
A security source told pro-Kremlin tabloid Komsomolskaya Pravda that the hoaxes were the result of a cyber attack organised from Ukraine, although no evidence was given. An IT security specialist quoted elsewhere spoke only of a foreign hacking attack.
The governor of Stavropol called it a "phone attack" that had come from abroad and one phone company spoke of an "international virtual operator".
There was some suggestion, too, that the source of the disruption may have been closer to home. An aide to the Russian defence ministry's inspector general was quoted as saying it was part of an anti-terror exercise.
"For the first time since Soviet times, large-scale anti-terrorism exercises are being carried out in Russia, involving all government agencies responsible for state security," Oleg Ostrovsky told newspaper Argumenty i Fakty Prikamye. The report was later deleted, according to BBC Monitoring.
Russia has been hit by jihadist attacks, including a bombing on the St Petersburg metro in April in which 16 people died.
However, a former opposition MP, Gennady Gudkov, warned that if the current alerts really were the work of federal security officers, then "that is completely crap".
Russia's military is due to start joint military exercises on Thursday with Belarus. The exercises, called Zapad-2017 (West-2017) will involve a reported 12,700 soldiers in Belarus and Kaliningrad. Some figures outside Russia have predicted many more soldiers may be involved.