European live animal trade raises major welfare concerns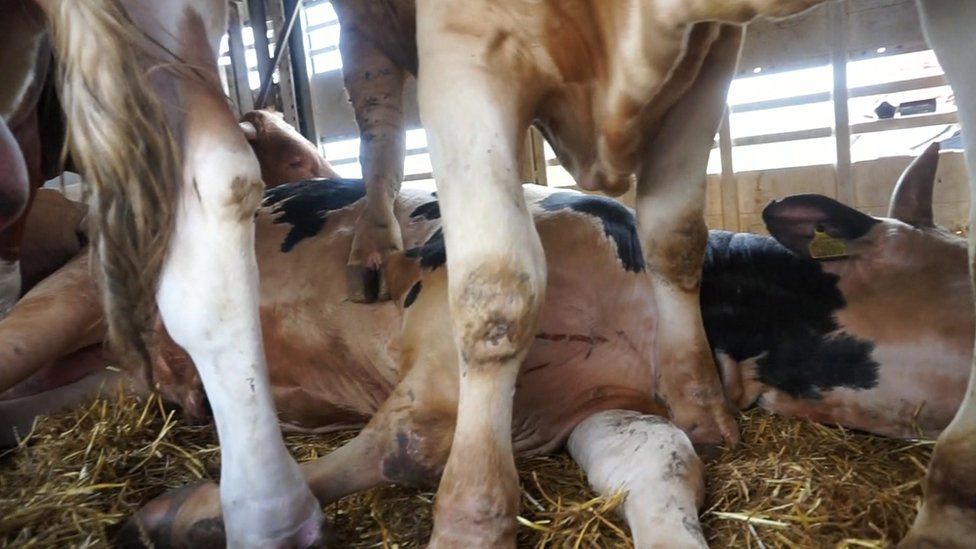 Animal welfare is being neglected on long journeys across Europe amid a booming livestock trade, the BBC's Victoria Derbyshire programme found.
Livestock hauliers were found to routinely break EU laws for the protection of animals in transit.
It follows monitoring by welfare charities in Bulgaria, an EU entry point to Turkey and the Middle East.
The UK government said it would "take steps to control the export of live animals for slaughter" post-Brexit.
But some animal rights groups are sceptical, and call for a ban on journeys of more than eight hours. The BBC's Victoria Derbyshire programme investigated their concerns.
UK exports of live cattle, sheep and pigs have tripled in value over the past five years, to more than £21m in 2016, according to HM Revenue and Customs.
The market is fuelled by a desire among some religious communities for live animals and, in some cases, difficulties in rearing livestock and refrigerating meat.
Across the EU, total exports of live cattle and sheep were worth more than €4bn (£3.5bn) last year, according to Eurostat, the EU's statistical office.
Exports of cattle and sheep from Europe to non-EU countries such as Turkey, with lower animal welfare standards, have increased in value by about 50% since 2012.
Christine Hafner, an animal investigator for welfare charities, has been working on the Turkish border.
She said animals die every summer at the border because of long delays while transporters wait to clear Turkish customs.
The BBC saw widespread health issues among livestock being transported into Turkey, including respiratory problems, eye conditions, and animals suffering from exhaustion or dehydration.
A bull was found dead on the top deck of a transporter on the Turkish border, while its driver was waiting to collect customs papers.
During an incident witnessed by the BBC last month, a truck of 500 sheep became stuck between checkpoints for four days in high temperatures without access to food and water.
When it was unloaded in Turkey, at least one sheep was found dead inside.
Ms Hafner said: "When sheep are forced to stand for many hours, if not days, on a truck, in more than 35-degree heat, with their heads and backs touching the ceiling, it's like an oven."
The Bulgarian border authority told the BBC "the consignment complied with all requirements relating to animal welfare during transport".
All live animal exports from Britain and Europe are controlled by an EU regulation, which lays down rules on journey times and rest periods
Transporters are required to prepare travel plans, which should be approved by the national authority in the country of departure
Handlers must be properly trained, while vehicles should meet standards of safety and provide adequate space for the animals
Water, feed and rest must be provided when needed.
The requirements continue to apply up to the point of unloading at the place of destination, even if it is outside of Europe.
But Ms Hafner said the laws were frequently broken, especially when transporters cross the border into Turkey.
The BBC has seen evidence that European consignments of animals entering Turkey routinely record an incorrect destination on journey logs.
Once over the border, livestock is often re-routed ad hoc to slaughterhouses hundreds of miles away, in Ankara, Istanbul and the Middle East.
The practice is illegal under EU laws, which require animals to be rested in stables for 48 hours first.
The EU Commissioner for Health and Food Safety, Vytenis Andriukaitis, said: "In my point of view we have enough laws.
"The main issues are enforcement, the level of official control, and the education of all operators involved in live animal transport."
Responding to the BBC's findings of systemic rule-breaking by European transporters of live animals, Mr Andriukaitis agreed it was "absolutely cause for concern".
He said: "We have sent a fact-finding mission to the Bulgarian border to try to address these problems."
A spokesman for the UK government said it would "consider the option to limit journey times involving farm animals for slaughter once Britain has left the EU".
Related Internet Links
The BBC is not responsible for the content of external sites.