Ryanair cancellations affect some Dublin flights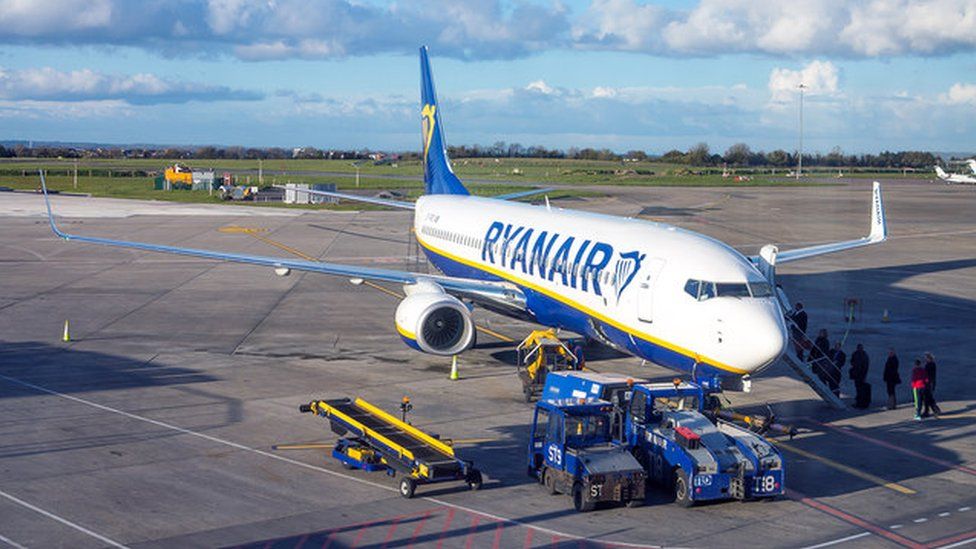 Several Ryanair flights to and from Dublin Airport are among those the firm has cancelled, as part of a wider move to address punctuality and staff leave.
It said it needed to improve the punctuality of its flights and clear a backlog of staff holiday entitlement.
A County Down family has told BBC News NI their holiday is badly affected by a last-minute cancellation.
Desmond McDowell, from Bangor, said two of his daughters were due to fly from Dublin to Nantes in France on Saturday afternoon.
Their short trip was booked back in early June, but according to Mr McDowell, they were informed by email on Friday afternoon that the flight was cancelled.
"They then set about trying to get alternative flights which ranged from £460 to £1,300... some taking as long as 20 hours," their father said.
The pair opted instead to take a ferry to Cherbourg, but faced a long drive to Rosslare in County Wexford.
They now hope to arrive in France on Sunday, but will have to drive for several more hours to meet up with their parents near the Loire.
"They're going to lose two days out of their holiday," Mr McDowell said.
"It's taking them from half-past-seven this morning until probably three or four o'clock tomorrow afternoon to get here."
He said the way in which the airline had handled the situation left him with "no faith" in the company.
"Ryanair are cancelling [up to] 50 flights a day and some people are trapped abroad, some people are stuck at home
"To me, they are not a company you could respect."
Ryanair has cancelled a number of Dublin flights on Saturday and Sunday and the latest information is available on the airport's website.
The airline has advised its passengers: "Your flight is operating as scheduled unless you have received a cancellation mail.
"Please check the email address used to make your booking."
Ryanair also flies from Belfast International Airport but none of its flights have been affected to date.