Iraqi refugee in Berlin praised for handing over cash find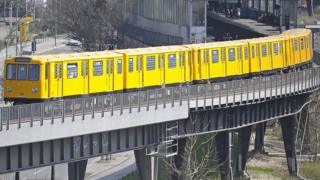 Berlin police have praised an Iraqi refugee who handed in a handbag she found containing €14,000 (£12,400; $16,800).
The bag was left on a U-Bahn (subway) train last Friday night by a 78-year-old woman.
Moments after leaving it, she realised her mistake and told train authorities, but they were unable to trace the bag.
It had been found by a 16-year-old Iraqi student, who told her mother. Two days later they handed it in.
On Tuesday, Berlin police tweeted their praise:
"A student found a handbag with €14,000 and handed it over to police. The owner is happy. We say excellent and thank you," it said.
The family, who live in a refugee centre, are likely to receive a reward for their honesty, say German media.
Under German law, the applicable reward is three percent for objects or money turned in - though this is halved if the valuables are found on public transport. That would leave the family with a €210 reward.