Florian Philippot: Le Pen's top aide quits National Front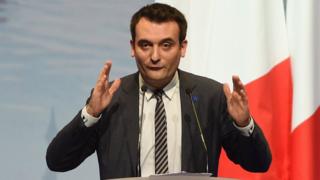 One of the best-known figures in France's far-right National Front (FN) has announced he is leaving the party.
Florian Philippot was right-hand man to Marine Le Pen during the recent presidential election which saw her beaten by Emmanuel Macron.
He shifted the FN's focus from immigration to the impact of globalisation on workers and was blamed by some for losing the party votes.
Mr Philippot said he did not "like being ridiculed".
The politician, who is gay, came to be an emblem of the FN's embrace of liberal social values under Ms Le Pen's leadership.
But amid the fallout from the party's poorer-than-predicted showing at recent elections, on Wednesday Ms Le Pen stripped him of his key brief for strategy and communication.
Taking France's National Front out of the shadows
Macron team complete rout with Assembly win
"Listen, I don't like being ridiculed. I've never liked having nothing to do, so sure I'm quitting the National Front," the 35 year old told France 2 television on Thursday.
He said he feared the FN was making a "terrible backward slide" towards its hard-line past.
"I saw how things were developing negatively these past weeks, that maybe I wouldn't have a place in the project [for a renewal of the party] and thus they needed a pretext," Mr Philippot said.
The MEP set up his own organisation, Patriots, in May.