Russia turns on Morgan Freeman over election 'war' video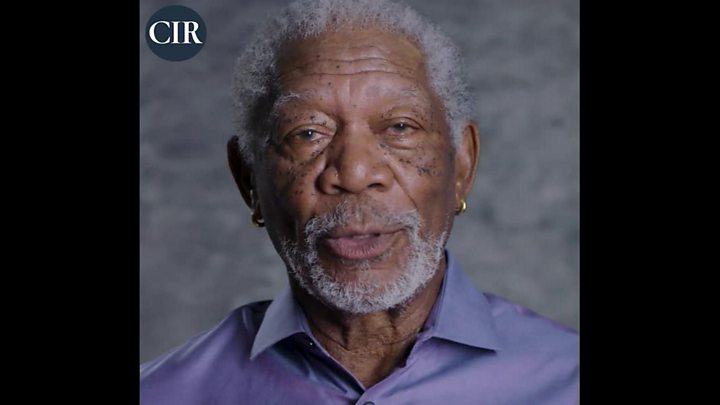 Russia has aimed its entire media arsenal at the veteran Hollywood actor Morgan Freeman over his appearance in a video accusing the Kremlin of waging "war" on America during last year's presidential election.
The video shows the Oscar winner accusing President Vladimir Putin, a "former KGB spy", of launching cyber attacks and spreading false information in order to avenge the collapse of the Soviet Union.
He urges President Donald Trump to tell the nation that "during this past election, we came under attack by the Russian government".
The clip was produced by The Committee to Investigate Russia, a group set up by Hollywood director Rob Reiner to expose what it calls Russia's "aggressive effort to subvert the American democratic process".
The committee includes former National Intelligence Agency director James Clapper on its advisory board.
Freeman 'duped'
The official Russian reaction has adopted a knowing rather than angry tone, suggesting that Morgan Freeman is more to be pitied as a dupe of political interests.
President Putin's press secretary Dmitry Peskov said the Kremlin was not taking the film seriously, as its accusations were "groundless and of an exclusively emotional character".
"Many creative people easily fall victim to emotional strain, and don't have real information about the actual state of affairs," he said, comparing the "emotional manipulation" of Hollywood stars to the McCarthyite anti-Communist campaigns of the 1950s.
"It will pass with time," concluded Mr Peskov.
The foreign ministry spokeswoman, Maria Zakharova, wrote on Facebook that Morgan Freeman had been "duped" in an attempt to stop alleged wiretapping of the Trump campaign under the Obama administration from "turning into a new Watergate".
She predicted a "spectacular finale" when the truth comes out - "I can't wait".
'Russophobic cliches'
Official and pro-Kremlin TV channels went further.
The Rossiya 24 rolling news channel brought together a panel of psychiatrists, who attributed Morgan Freeman's performance to a Messianic complex resulting from playing God or the president in several films, not to mention "drug abuse".
The channel's eccentric weatherman Vadim Zavodchenkov also got in on the act, explaining that Mr Freeman was ill through "overwork and marijuana use".
TV Centre subjected the video to detailed analysis, concluding that it was the actor's "worst role".
He put his "deep, persuasive voice" to the service of an "establishment campaign to oust Trump", in which the video plays the part of "softening up public opinion," it said.
St Petersburg's Channel 5 warned Morgan Freeman that he had "lost millions of Russian fans in a moment" by turning into an "American propaganda loudspeaker" repeating "Russophobic cliches".
It surveyed the views of some Russian cinema stars, none of whom approved of Morgan Freeman's latest role.
Director Vladimir Bortko lamented a "remarkable artiste talking utter nonsense", and Andrei Konchalovsky mused that performers are "in general excitable buffoons, and easily led into propaganda".
The actor Nikolai Burlyayev was more measured, saying it was "a matter for his conscience".
He added: "If I were offered a text saying something about America, I would turn it down, even though I am critical of the country. Everyone is free to choose."
The NTV channel also turned to Russian cinema for reaction, eliciting the thought from director Stanislav Govorukhin that "not all actors are idiots, but you will find some who are. It happens".
Mikhail Gorevoy, who has played Russian heavies in Bond movies and the Steven Spielberg film Bridge of Spies, used NTV to appeal to Morgan Freeman directly.
Speaking in English and Russian, he called on American actors to "make our countries closer, not to tear us apart".
'Fear and loathing'
The pro-Kremlin press also joined in. The popular tabloid Moskovsky Komsomolets headlined its story "Morgan Freeman's Fear and Loathing".
Journalist Mikhail Rostovsky also accused the actor of reacting emotionally, saying he was involved in a "highly aggressive and specific propaganda campaign against our country".
"But even though Morgan Freeman is being used, I'll always love his films," Mr Rostovsky assured the actor.
#StopMorganLie
Condemnation of Morgan Freeman on Russian Twitter is blossoming with the English hashtag #StopMorganLie, in what social media analyst Eliot Higgins sees as a campaign by Russia's RT broadcaster.
Certainly, many of these tweets repeat formulas along the lines of "The Indians remember American democracy all too well, as they do in Hiroshima, Nagasaki, Iraq, Libya and Yugoslavia. Are you really proud of the democracy?" in English and Russian.
But an NTV programme presenter concludes by hoping that, "in the best Hollywood tradition, this will have a happy ending".
BBC Monitoring reports and analyses news from TV, radio, web and print media around the world. You can follow BBC Monitoring on Twitter and Facebook.