Europe migrant crisis: EU presents legal migration plan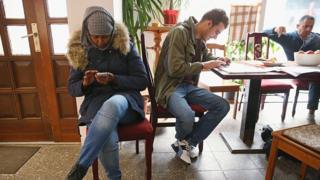 The EU Commission has proposed a new two-year programme to bring at least 50,000 asylum seekers into Europe.
"It is about managing one of the most complex, structural phenomena of our times, not a temporary emergency," said the Commission's Vice-President Federica Mogherini.
The issue has soured relations in the 28-country European Union.
A two-year programme which finishes on Wednesday relocated less than a fifth of a planned 160,000 asylum seekers.
Several eastern states balked at the mandatory resettlement scheme, and a legal challenge brought by Poland and Hungary was rejected by the European Court of Justice earlier this month.
Nevertheless, Ms Mogherini insists EU migration policy is "starting to deliver".
The resettlement scheme which is coming to an end was an attempt to manage the surge of some 1.7 million migrants who have arrived on European shores since 2014.
The scheme suspended European rules which say would-be refugees should apply for asylum in the country of entry to the EU - which had put the main burden of managing the crisis on frontline countries such as Italy and Greece.
EU officials say the failure of the scheme to resettle the envisaged number of people is partly because a 2016 deal with Turkey and EU measures to curb migration from Libya led to a dramatic drop in the number of arrivals, and because many of the more recent arrivals come from countries which do not qualify for the relocation programme.
In a news release on Wednesday, the Commission suggested that the priority should now be to relocate would-be refugees who arrived in Italy and Greece before Wednesday - which it estimates as about 8,000 people.
The Commission's proposals for a new two-year scheme would bring 50,000 vulnerable people to Europe - from the Middle East and Turkey as before, but with a new focus on North Africa and the Horn of Africa.
"This is part of the Commission's efforts to provide viable safe and legal alternatives for those who risk their lives at the hands of criminal smuggling networks", it said.
It said it had set aside €500m (£440m; $590m) to support the programme, which it said would also bolster return rates, which it said were currently "unsatisfactory" at 36%.
Schengen steps
In a separate announcement, the Commission also said it was planning on updating the code governing the 26-nation Schengen zone of free movement.
Germany, Austria, Denmark and Norway have reinstated border checks at certain points in response to migrant arrivals, while France has also done so, citing a persistent terrorist threat, but these controls are due to expire in coming weeks.
The new proposal extends the time limit for such temporary measures from six months to a year, and under exceptional circumstances up to three years, but obliges member states to assess whether alternative measures are available.
In its statement, the Commission lauds Schengen as "one of the major achievements of European integration" and reminds member states that imposing internal border controls should be a measure of last resort.
A note on terminology: The BBC uses the term migrant to refer to all people on the move who have yet to complete the legal process of claiming asylum. This group includes people fleeing war-torn countries such as Syria, who are likely to be granted refugee status, as well as people who are seeking jobs and better lives, who governments are likely to rule are economic migrants.