Air France plane engine fails over Atlantic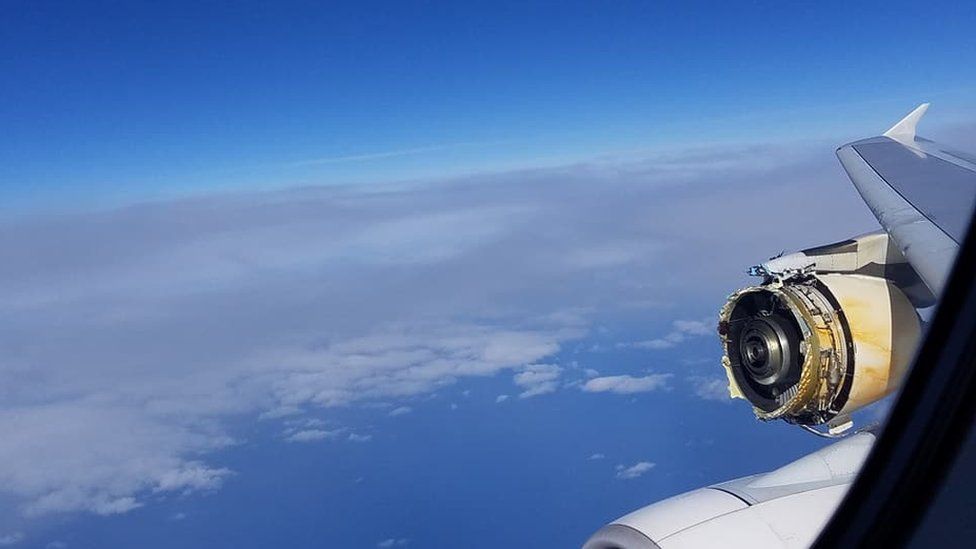 An Air France flight from Paris to Los Angeles was forced to make a sudden diversion when it lost part of an engine over the Atlantic.
One of the four engines on the Airbus A380 flight AF66 failed west of Greenland on Saturday.
No-one was injured in the incident, but passengers remained on board hours after the landing at 15:42 GMT.
The plane was carrying 496 passengers and 24 crew at the time, an Air France spokesperson told AFP news agency.
David Rehmar, a former aircraft mechanic who was a passenger on the flight, told the BBC that based on his observations, the incident was a fan failure.
He said there was a sudden movement followed by a loud noise, which caused panic among the passengers.
"You heard a loud 'boom', and it was the vibration alone that made me think the engine had failed," he said.
Mr Rehmar said that for a few moments, he thought "we were going to go down."
His worry that the aircraft's wing could have been compromised disappeared when the flight stabilised within 30 seconds. And he added that the pilots had quickly shut down the affected engine.
The plane flew for about an hour on three engines before it reached Goose Bay Airport, in Labrador in eastern Canada.
Photos taken by passengers showed the cowling, or engine covering, completely destroyed, and some cosmetic damage to the wing's surface.
Mr Rehmar said that a bird strike was not a likely cause of the incident at such a high altitude, and his experience led him to believe the stage-one fan - the exterior fan blades on the front of the engine - had somehow failed. But the cause of any such failure is not yet clear.
Passengers were stranded on the plane in Canada for a number of hours, as the airport is not equipped to handle an Airbus A380.
He said passengers had been provided with meals and that the captain had come out to speak to passengers. Some posed with him in images posted on social media.
Two 777s were dispatched from Montreal to pick them up and transfer them to Los Angeles.
In a statement, Air France simply confirmed "serious damage" to one engine and said its crew had "handled this serious incident perfectly".