Catalonia referendum: How Barcelona and Madrid viewed the vote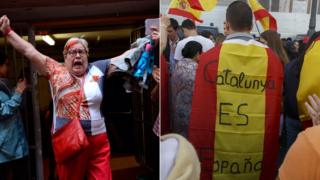 As the Catalan independence referendum was held on Sunday, the mood in Spain's two biggest cities could not have been more different.
In Barcelona, people turned out defiantly to vote in a referendum deemed illegal by the constitutional court and by the central government in the capital, Madrid.
This is how our teams viewed events in the two cities on Sunday.
The view from Barcelona - Piers Scholfield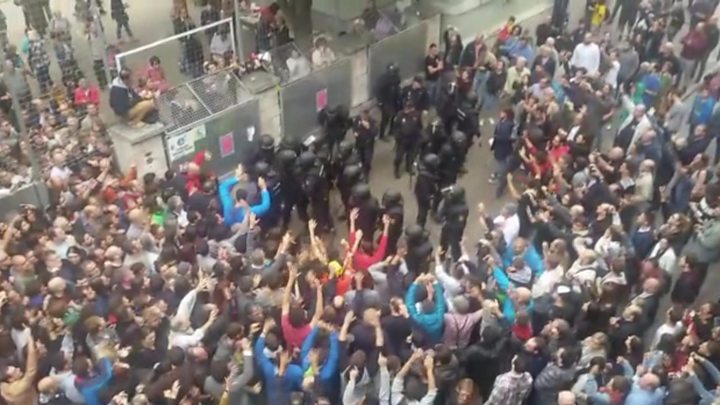 As Prime Minister Mariano Rajoy spoke to the nation on Sunday night, Catalans could be forgiven for thinking he lived in a different world, let alone a potentially different country. "We have been an example for the world," said the Spanish premier.
What sort of example is up for debate.
"They are mad, just crazy," 21-year-old Meritxell Ros told us. She was showing us the welts and bruises on her father's back after an encounter with Spanish riot police on the outskirts of Barcelona. National police had arrived in force at the polling station to try and wrest the ballot papers and boxes from local organisers.
In a demonstration of people power, hundreds braved a hail of rubber bullets, batons and riot shields to force a retreat by the police. It was an unforgettable sight on a day full of unexpected violence.
It had started peacefully enough. Before dawn in the pouring rain outside a school in Gracia in the heart of Barcelona, hundreds of Catalans gathered quietly under their umbrellas to defend the polling station from the authorities.
Daniel Sanchez told us he'd arrived at 01:00. "My grandfather would be proud," he said. He went on to draw a comparison between the Spanish state of today and the Franco era. It was a common refrain.
At this school, two Mossos - Catalan police officers - duly arrived as the sun rose. Faced with a huge but silent crowd barring entry, they took their leave to applause and cheering: "Votarem!" they chanted - we will vote.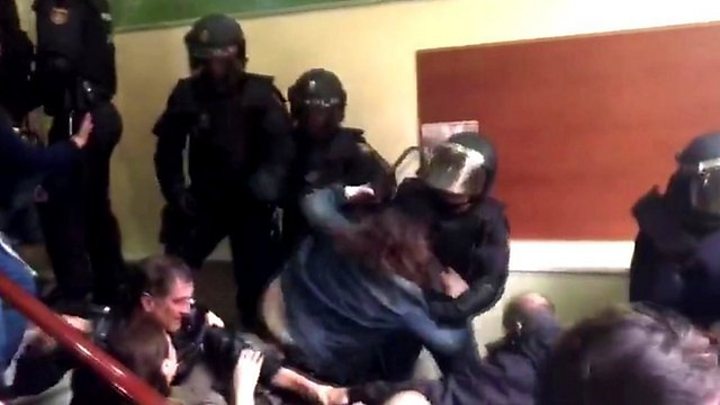 But, before long, social media were deluged with images of Spain's Guardia Civil - under orders from Madrid - smashing their way into polling stations, dragging people out along the floor.
In Girona, a video showed women being thrown to the ground by their hair. In a Barcelona polling station, men and women were hurled down a staircase by the police in dark uniforms.
And ominously, footage showed national officers clashing with their regional counterparts: a row of local firemen hit by batons; Catalan police pushed aside by a squadron of Guardia Civil as they raided a school; a Catalan policeman in tears.
When we spoke to former regional leader Artur Mas after he cast his vote, he crystallised what many here are thinking: "Everywhere there are peaceful people who are trying to cast their vote - and there is a violent Spanish state that is trying to prevent people from voting."
Many Catalans didn't want this referendum, disputed or not. But anger and disbelief at Sunday's events will only have served to boost support for a real bid for independence.
The view from Madrid - James Badcock
Where Catalonia's leaders see oppression, many people in Madrid see the rule of law and the defence of national unity.
As Spanish police forcibly removed people and ballot boxes from polling stations across Catalonia on Sunday morning, hundreds of people gathered in Madrid's Plaza Mayor to wave Spain flags and sing "¡Viva España!" in support of the country's security forces.
"We have to defend Spain because it's a great nation," said Rosa María González, a retired office worker from Madrid, as she waved a massive Spanish flag among a crowd of up to 10,000 people who demonstrated against the referendum outside Madrid's city hall this weekend.
Far from being concerned about heavy-handedness, Ms González argued that the Spanish government had done too little to prevent the defiance on the part of Catalonia's leaders. "This is no time for half measures. We should bring all the powers over health, education and other services back to Madrid and leave Catalonia without a penny. They'd soon come to heel."
But Jorge Capillas, a 32-year-old banker, felt that negotiation between Spain and Catalonia was now inevitable - but not on independence.
"We are not radicals. We are normal Spaniards who want our country to remain united. We love Catalonia; my wife and mother are Catalan. But Catalonia is not like Scotland, a country that joined a union. Catalonia has always been Spain."
Speaking for a Spanish government that has never been prepared to discuss self-determination with Catalan pro-independence leaders, Deputy Prime Minister Soraya Sáenz de Santamaría described the vote as "a farce". Hours later, Prime Minister Mariano Rajoy said the referendum had not happened at all.
But others in Madrid may end up having the final say amid the fallout from the attempted ballot over the coming months.
Pedro Sánchez, the leader of Spain's second-largest party, the socialist PSOE, tweeted that Sunday was "a sad day for Spanish democracy", calling for "calm and dialogue". Mr Sánchez proposes reforming Spain's constitution in search of a federalist solution to nationalist demands in Catalonia and the Basque Country.
The left-wing Podemos, whose support the PSOE would need to cultivate to have any hope of commanding a future majority in Spain's parliament, favours a legal, binding referendum in Catalonia.