Carles Puigdemont: The man who wants to break up Spain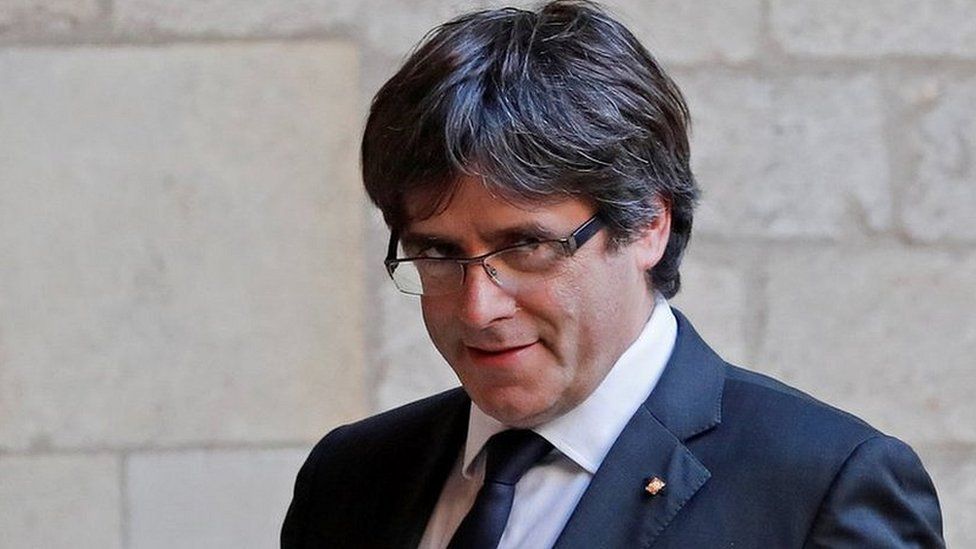 Catalonia's sacked President Carles Puigdemont has spearheaded the region's peaceful drive for independence from Spain.
In defiance of the law and Spain's constitution, he has pushed forward in the hope of international recognition.
But his zeal for secession has put him on a collision course with Spain's authorities, which outlawed the independence referendum held in Catalonia on 1 October.
After imposing direct rule, Spanish Prime Minister Mariano Rajoy called a snap Catalan election.
"[Rajoy] has only demonstrated a greater mobilisation of Catalans, greater votes," Mr Puigdemont said, calling for negotiations with the Spanish PM.
He was speaking in Brussels, having fled there with four ministers after declaring independence.
The election result proved that his campaigning via videolink from Brussels had worked.
But the village baker's son from Girona faces the weight of Spanish law if he returns to Spain. The separatist leaders are accused of rebellion, sedition and misuse of public funds.
Born in Amer in 1962, Carles Puigdemont grew up under the dictatorship of Gen Francisco Franco and was taught in Spanish at a Church-run boarding school, but spoke Catalan at home like others of his generation.
Joan Matamala, a few years his senior at the school, remembers the boy everyone got on with, even the older pupils.
Mr Matamala runs a bookshop, Les Voltes, that has been promoting Catalan language and culture in Girona for 50 years.
The young Mr Puigdemont did not come over as a natural leader at the time, but he was someone you did not forget, he says.
"Despite the difference in age, he was a role model for others," Mr Matamala remembers.
As a young man, Mr Puigdemont had a passion for his native tongue, going on to study Catalan philology at the local university and polishing colleagues' copy when he first found work at the city's newspapers.
Miquel Riera worked with him, often late into the night, at the fiercely pro-independence paper now known as El Punt Avui.
"Right from the start he was very interested in new technology and the internet," says Mr Riera. This may have fed Mr Puigdemont's awareness of social media, which was crucial in promoting the referendum campaign.
"He's a man who makes friends easily and remembers them," says Mr Riera, whose 25-year-old son, he says, was bruised on the chest by a police rifle butt at a polling station at the 1 October referendum.
Mr Puigdemont served as mayor of Girona from 2011 until 2016 when he was elected regional president of Catalonia.
There is no denying his star appeal among his supporters, who clamour to take selfies with him at rallies and avidly follow his social media accounts, which he curates himself.
"Mr Puigdemont has been absolutely key to bringing Catalonia to where we are now," said Montse Daban, international chairperson of the Catalan National Assembly, a grassroots pro-independence movement.
But in the eyes of Spain's government, the Catalan leader has ruthlessly created a crisis, burning all the bridges in order to make a unilateral declaration of independence.
"Democracy is not about voting - there are referenda in dictatorships too," a Madrid government source told the BBC. "Only when you vote with guarantees according to the law is it a democracy."
Images of violence at the polling stations in October's banned referendum caused an international outcry.
But the source said this was "150% part of Puigdemont's plan".
"It's unfortunate because it was a trap. There's no doubt it looks bad for the Spanish government."
Mr Puigdemont talks the language of independence in a way his more cautious predecessor, Artur Mas, did not during the dry-run referendum of 2014, which was also banned by Madrid.
Speaking to the BBC after the 1 October referendum, Mr Puigdemont said: "I think we've won the right to be heard, but what I find harder to understand is this indifference - or absolute lack of interest - in understanding what is happening here. They've never wanted to listen to us.
"How can we explain to the world that Europe is a paradise of democracy if we hit old women and people who've done nothing wrong? This is not acceptable. We haven't seen such a disproportionate and brutal use of force since the death of the dictator Franco."
He calls for mediation - something the Spanish government says is unacceptable.
A Madrid source dismissed the idea, telling the BBC it would be "mediation between the Spanish government and part of the Spanish state".
He has been mocked by some for not going to Madrid along with them and placing himself in the hands of Spanish justice.
One cartoon apparently being circulated on the Whatsapp messaging app shows him, with his distinctive mop of hair and glasses, hiding out in a box of Belgian chocolates.
But Mr Puigdemont told Belgian TV he was not hiding from "real justice" but from the "clearly politicised" Spanish legal system.
But he was arrested in Germany on 25 March while travelling back to Brussels from a conference in Finland. The European arrest warrant against him had been reissued two days earlier, apparently taking him by surprise.
Germany must now decide whether to extradite him to Spain.
Meanwhile, the man from Girona is keeping the cause he holds so dear, Catalan independence, squarely on the doorstep of the European Union.