Former taoiseach Liam Cosgrave dies aged 97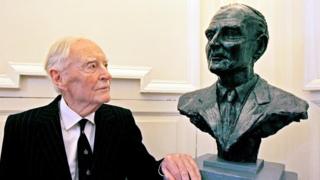 The former taoiseach (Irish prime minister) Liam Cosgrave has died at the age of 97.
Mr Cosgrave was elected Fine Gael leader in 1965 and led the party for eight years, becoming taoiseach in 1973.
He was in office at the time of the power-sharing Sunningdale Agreement.
Mr Cosgrave had to deal with the developing Troubles in Northern Ireland and the economic implications of the 1970s international oil crisis.
Irish President Michael D Higgins said Mr Cosgrave was "committed to serving the people of Ireland with all of his energy, intellect as well as passion.
"In retirement, he loved to be among the people, be it at State occasions or sporting events and it is fitting that we pay tribute to his significant contribution to Ireland."
'Authentic in every way'
Archbishop Eamon Martin of Armagh, the Catholic Primate of all Ireland, said Mr Cosgrave was a man of great faith "who placed great value on the primacy of conscience in his political career and in his private life".
He added: "During uncertain times in our history Liam Cosgrave did not shirk from making important and challenging decisions which demanded decisive political, economic and moral leadership."
Current taoiseach Leo Varadkar said Mr Cosgrave "was authentic in every way".
"Liam Cosgrave was someone who devoted his life to public service," he said.
"A grateful country thanks and honours him for always putting the nation first."
Mr Cosgrave was the son of WT Cosgrave, the first head of government of the newly independent Irish Free State.