Saudi king signs lucrative deals on landmark Russia visit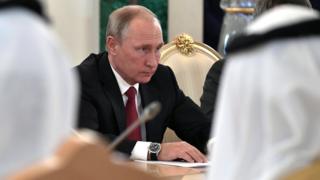 Russia and Saudi Arabia have clinched a number of lucrative deals as King Salman paid the first official visit to Russia by a Saudi monarch.
Reports say the deals range from an arms deal worth $3bn (£2.3bn) to a $1bn energy investment fund.
The king said the world's two top oil exporters would continue to collaborate to stabilise oil markets.
However, the agenda also included issues on which the two sides deeply differ, including the war in Syria.
Both sides are involved in the conflict, but on opposing sides.
Nonetheless, Moscow is keen to present this visit as a symbol of the success of its intervention in Syria in terms of reviving Russian influence in the Middle East, says the BBC's Sarah Rainsford.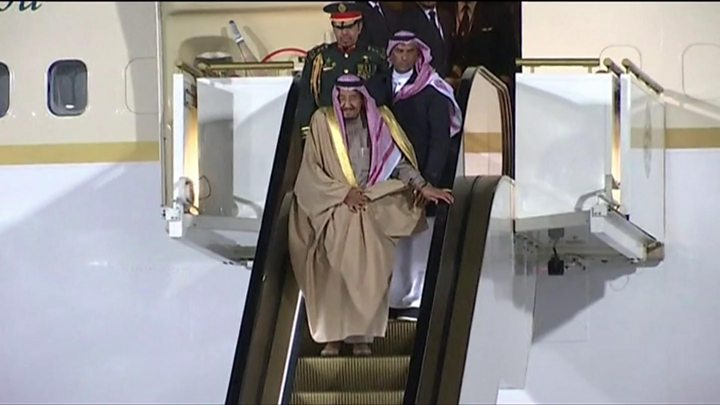 The visit by the Saudi king - and his 1,000-strong delegation - is seen as an expression of that revived power, she says.
President Vladimir Putin hailed the visit by the 81-year-old king as a "momentous" event, reported Russian state news agency RIA Novosti. Mr Putin expressed hope that it would boost ties between the two countries.
"We aim to strengthen our relations in the interests of peace and security, in the interests of developing the world economy," the Saudi king responded, according to AFP news agency.
The two sides have an interest in co-operating on a number of fronts.
On Wednesday, Mr Putin said a global deal to cut oil production in order to raise prices could be extended to the end of next year.
The Saudi energy minister has said his country is open to all options.
Russia is not a member of the oil cartel Opec, but it has collaborated with Opec members on suppressing production to drive up oil prices.
Saudi Arabia has agreed to invest $1bn in Russian energy projects, while Russian petrochemicals giant Sibur will build a plant in Saudi Arabia in a separate $1.1bn agreement.
A preliminary agreement was also signed to look at the possible future supply of Russian S-400 anti-aircraft missiles.