Air France engine debris found in Greenland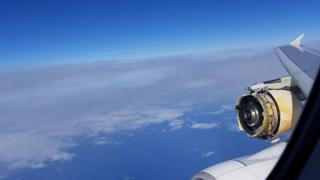 Debris from an Air France jet engine that failed on a transatlantic flight last week has been located in a remote part of Greenland, investigators say.
Recorded data from the Paris-Los Angeles flight pinpointed the position where the damage occurred.
A Danish helicopter spotted the engine parts on an icy desert area 150km (95 miles) south-east of Paamiut town.
Part of the Airbus A380's engine fell off on Saturday, forcing the flight to divert to Labrador in Canada.
The plane was carrying 496 passengers and 24 crew at the time. No-one was injured in the incident.
French air investigators said they were working with their Danish counterparts to organise the recovery of the parts.
Meanwhile the French investigators will continue to examine the flight recorder data.
Passengers on board flight AF66 described hearing a "loud boom" when the damage took place.
David Rehmar, a former aircraft mechanic who was a passenger on the flight, told the BBC he believed the cause was a fan failure in the engine.
The flight stabilised within 30 seconds, with the affected engine shut down.
The plane flew for about an hour on three engines before it reached Goose Bay Airport, in Labrador in eastern Canada.
Photos taken by passengers showed the cowling, or engine covering, completely destroyed, and some cosmetic damage to the wing's surface.
Greenland is an autonomous Danish dependent territory with limited self-government and its own parliament.