Top European human rights official Pedro Agramunt quits amid scandal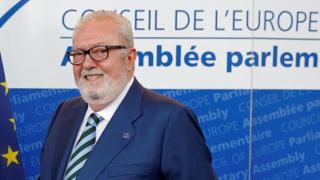 A top European human rights official has resigned amid a corruption investigation and complaints about him having visited Syria with Russian MPs.
Pedro Agramunt resigned as president of the Parliamentary Assembly of the Council of Europe (PACE). The council is Europe's main human rights watchdog.
PACE members - MPs from across Europe - had called for his dismissal.
PACE is probing claims that some of its members did favours for Azerbaijan in so-called "caviar diplomacy".
The oil-rich ex-Soviet state has cracked down on political dissidents.
There are suspicions that Azerbaijan influenced members of PACE, allegedly wooing them with gifts, and in 2013 the assembly rejected a report on Azeri political prisoners.
Independent investigators are to report on the PACE scandal by the end of this year.
Separately, Mr Agramunt - a Spaniard - was criticised for his visit to Syria with Russian MPs in March, when he met President Bashar al-Assad.
The Syrian leader has been condemned internationally for human rights abuses, including chemical attacks blamed on his forces.
In a statement the Socialist group at PACE said "even if the visit has been 'personal' and 'private', in no case the name of the Parliamentary Assembly can be involved in initiatives which can be objectively read as a support of Assad's regime and its action against the Syrian population".
Russia has boycotted the 47-nation assembly since January, angry at Western sanctions relating to its annexation of Crimea and help for rebels in eastern Ukraine.
PACE meets next week, but a debate on Mr Agramunt's position on Monday will no longer take place.
A Briton, Roger Gale, will replace him provisionally.